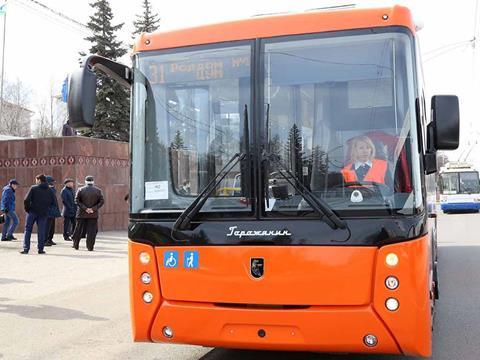 RUSSIA: Three cities have recently ordered battery trolleybuses.
Vostokavtotrans beat Trolza Market Trading House to win a 111·9m rouble contract to supply 10 vehicles to Almetyevsk transport operator Almetyevskoe Transportnoe Upravlenie.
The model to be supplied is the Gorozhanin, based on a bodyshell from KamAZ Group subsidiary NefAZ and using electrical equipment from Ufa Tram & Trolleybus Factory. A pre-series vehicle underwent dynamic tests in the city earlier this year.
The low-floor vehicles due to arrive by the end of the year will have capacity for 100 passengers including 28 seated and a wheelchair space. They will be equipped with satellite navigation, wi-fi, CCTV, air-conditioning and an automatic fare collection system.
Kursk municipality has signed a 56·3m rouble leasing deal running to the end of 2020 with UralBusinessLeasing for the purchase of five Trolza Megapolis vehicles. The purchase price is 60·3m roubles and deliveries are due by the end of January.
The buses will be 12·6 m long and 2 550 mm wide with capacity for 85 passengers including 28 seated. Lithium iron phosphate batteries will enable up to 30 km of off-wire running.
The price of both orders is discounted through a federal subsidy of 7·5m roubles per vehicle.
Avtotekhkom is to deliver 10 battery trolleybuses worth 204m roubles to St Petersburg operator Gorelektrotrans by the end of the year. The tender specifications suggest that these will be Belkommunmash's BKM-32100D model.
On October 20 Abakan received the last of the five VMZ-5298.01 battery trolleybus that it ordered from Stroitrans earlier this year. The city budget paid 11·5m roubles per vehicle, with an extra 7·5m roubles per vehicle covered by federal subsidy.