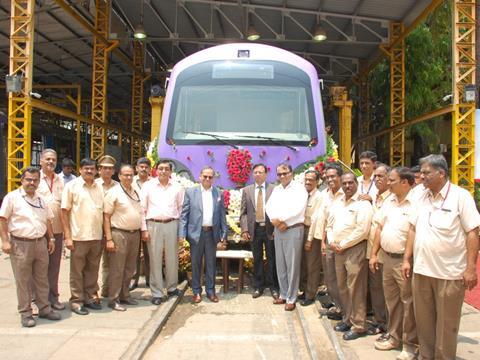 INDIA: Kolkata Metro Rail Corp took delivery of the first train for the East-West Line on March 31 from BEML's factory in Bangalore.
KMRC originally awarded CAF the rolling stock contract in 2009, but the Spanish manufacturer pulled out of the project in 2014. In September 2015 BEML emerged as the sole bidder in a new tender, and in January 2016 signed the Rs9bn contract. The order for 14 six-car trainsets includes an option for three more to increase capacity on the line.
The 1 435 mm gauge trains are composed of two motor cars and four intermediate trailers, and have a maximum speed of 80 km/h. They are 2 900 mm wide with capacity for 2 068 passengers, and are equipped with LED lighting. The fleet will be stabled at a 15·6 ha depot at Salt Lake Central Park.
Siemens is providing the 750 V DC third-rail electrification. Ansaldo STS is supplying CBTC signalling and telecoms under a Rs2·94bn contract awarded in 2011.
Opening of the East-West Line is planned to take place in two phases. Phase I covers the eastern 9·4 km from Salt Lake Sector V to Sealdah. This includes six stations on a 5·8 km elevated alignment and a further two underground stations. Completion is scheduled for June 30.
The 7·2 km Phase II, expected to open at the end of January 2021, will connect Sealdah with Howrah Maidan. Entirely underground, Phase II includes four stations and a 750 m tunnel under the River Hooghly.