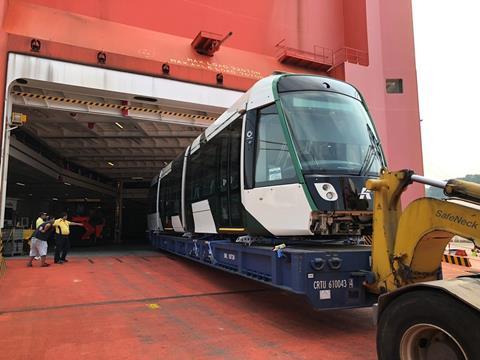 TAIWAN: The first test runs on the second phase of the Kaohsiung tramway are scheduled to get underway later this month, after the first tram arrived the port of Keelung from Alstom's La Rochelle site in France on September 2. Revenue services are planned for 2019.
In January 2017 China Steel Co awarded Alstom a contract to supply 15 Citadis trams for phase two. The trams will be powered using Alstom's Citadis Ecopack onboard energy storage, charged in 20 sec at stops using rigid catenary.
'Alstom is confident that Kaohsiung tramway phase two will not only provide an efficient, comfortable and sustainable transport solution for residents and visitors, but also a new window to enjoy Kaohsiung's cityscape and culture', said Olivier Loison, Alstom's Managing Director for China & East Asia.