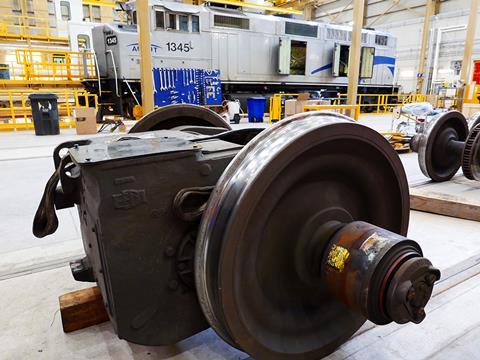 CANADA: The Lachine Maintenance Centre which will maintain the locomotives and rolling stock used on the Candiac, Saint-Jérôme and Vaudreuil-Hudson commuter routes was formally inaugurated by Montréal transport agency AMT on May 13.
The 14 ha facility on the site of the former Sortin yard has stabling for 13 trainsets, with the servicing and inspection workshop able to handle 10 cars and two locomotives. The major repair shop has a bridge crane, a 100 tonne decoupling table and automated inspection systems, and other equipment at the site includes an automated train wash that can clean a trainset in 5 min.
The C$119m project was funded by AMT (C$32m), PPP Canada (C$25m) and Quebec's Ministry of Transport ($62m), under a business model selected in collaboration with La Société Québécoise des Infrastructures which enabled the award of a single design, build and short-term financing PPP contract.
'Ridership on commuter trains running on the CP network has more than doubled in the past 20 years, rising from 2·9 million passengers per year in 1996 to 7·7 million in 2015', said AMT President & CEO Paul Côté at the inauguration. 'This made it vitally important to build a maintenance centre with modern facilities to enable us to perform full maintenance more quickly and more flexibly on our rolling stock running on the Candiac, Saint-Jérôme and Vaudreuil-Hudson lines. Mission accomplished! Over the past few years, we have introduced effective planning and preventive rolling stock maintenance measures that have positively impacted the performance and quality of our customer service. Thanks to these new facilities, we will be able to further improve our maintenance cycle, thereby extending our rolling stock's useful life.'