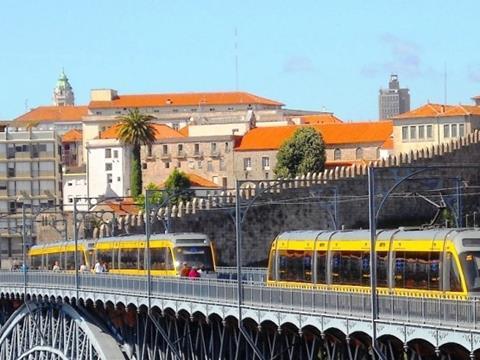 PORTUGAL: Metro do Porto has reportedly selected CRRC Tangshan as preferred bidder to supply and maintain a batch of 18 low-floor light rail vehicles as part of a network expansion project approved earlier this year.
The Chinese manufacturer was shortlisted in April as one of three potential bidders, along with Škoda and Siemens Mobility. According to local media, it was disqualified in August for bidding irregularities but has now been reinstated following clarifications. Offering a varient of the cars it supplied to Izmir, CRRC is said to be ahead of Škoda in terms of price and design but behind in the technical specifications which account for 40% of the final ranking. The CRRC Tangshan bid is reportedly priced at €49·6m, against €56m for the Škoda bid. A formal announcement is expected in early December, with delivery envisaged by early 2021.
Ridership on the six-line network has grown significantly in the past six months, Metro do Porto's Jorge Morgado told the Smart Metro conference in Madrid on November 27. The operator reduced its fares substantially in April as part of the government-funded package 'Part' package to fight climate change by encouraging modal shift, along with national rail operator CP and Lisboa Metro. At present the metro only has an 11% market share compared to 66% for private cars, he explained.
Thanks to government support, Metro do Porto has been able to cut the cost of monthly season tickets by up to 50%, Morgado explained, with flat fares of €30 for the urban area and €40 for the wider metropolitan region. As a result, he reported that ridership had grown from 5·7 to 7·2 million trips per month since April. Average trip lengths have also increased as the savings are greater for the longer journeys, while average load factors have risen from 21% to 23%. Season tickets now account for 75% of revenue, up from 67%, while there have been cost savings from a reduction in the use of disposable single tickets. Morgado told delegates that the ridership growth had broadly compensated for the reduced fares, with farebox revenue covering 111% of operating costs.
Metro do Porto expects to award contracts shortly for construction of two network extensions as part of its €307m expansion package agreed as part of the government deal. Work will start next year on the 3·2 km three-stop extension of the Yellow Line and a 2·5 km underground Pink Line in the city centre which will also have three stations; opening of the first sections is envisaged for 2023. Meanwhile, the operator's 72 Eurotram LRVs are to be refurbished to improve accessibility and increase their capacity.