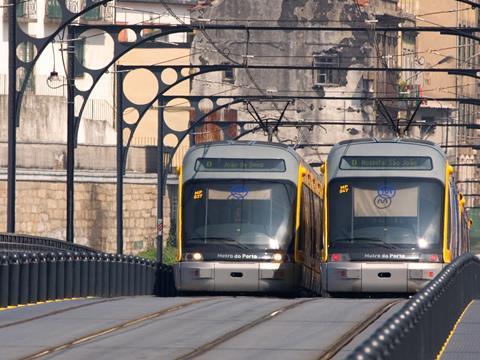 PORTUGAL: The European Commission has announced €107m of EU Cohesion Funds for expansion of the Metro do Porto light rail network. This adds to €75m allocated in the national government's 2020 budget.
The two projects being supported are Line G, where a €63·6m contribution will support construction of a new line from São Bento main line station northwest in tunnel to Casa da Música, where it will provide interchange with lines A, B, E and F. Line G will improve access to health care and higher education sites on the west side of the city centre; it will be just 2·5 km long with two intermediate stops.
The second package is a €43·3m allocation towards extension of Line D from Santo Ovídio southeast to Vila D'Este. This 3·2 km section with three stops will serve dense suburbs in the Vila Nova de Gaia district.
On March 27, Metro do Porto issued tenders for both projects, with proposals due by April 28. The estimated cost for Line G is €235m while the extension of Line D is priced at €130m. Work is due to start later in 2020 with both lines scheduled to open in 2023. The total cost of the expansion programme is €407m, and it is projected to add 10 million passengers per year.
The EU co-financing is part of a €1·4bn package of European Green Deal projects in Portugal and six other EU states announced by Commissioner for Cohesion & Reforms Elisa Ferreira in mid-March which aim to 'make public transport more appealing, reduce traffic and pollution and guarantee safer, faster and more comfortable journeys for the passengers'.