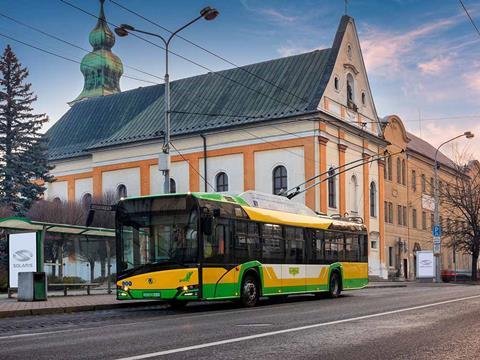 LITHUANIA: Kaunas public transport operator UAB Kauno Autobusai has signed a €29·4m contract with Solaris Bus & Coach for the supply of 85 trolleybuses. Deliveries of the low-floor Trollino 12 vehicles are due in 15 months from contract signing.
The trolleybuses will have capacity for 85 passengers, including 27 seated. They will be equipped with a breath alcohol ignition lock that prevents the driver from starting the engine whenever the device detects an excessive alcohol level on the driver's breath. Other features will include LED lighting, air-conditioning, a passenger information system, CCTV and a kneeling function to allow easier boarding.
Powered by a 150 kW asynchronous traction motor, each bus will also be equipped with an electric power steering pump to provide back-up steering power. The order is mostly funded by the operator, with Kaunas municipality providing €6·9m and the EU providing €1·1m.
These vehicles would allow the withdrawal of Škoda 14Tr trolleybuses, which are 25 years old. Some of these are to become part of a permanent street art exhibition in the city.