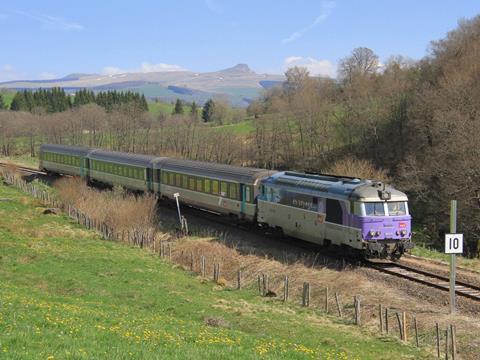 FRANCE: On January 12 Transport Secretary Alain Vidalies met with Philippe Richert, President of the association of French regions, and SNCF Voyageurs Director General Florence Parly to review progress with the programme to transfer responsibility for the loss-making Trains d'Equilibre du Territoire network of conventional passenger services from central government to the regions.
Agreements have now been signed with Nouvelle-Aquitaine, Hauts-de-France, Occitanie and Centre-Val de Loire. Including those signed with the Normandie and Grand Est last year, agreements have now been concluded with six regions that will become responsible for a total of 18 TET routes.
On January 1 2018 Nouvelle-Aquitaine is to become responsible for the routes from Bordeaux to La Rochelle, Limoges and Ussel. Central government is to provide €6∙7m a year to meet operating costs in 2018 and 2019, falling to €5m in 2020-22. Rolling stock investment by central government will be €75m.
Hauts-de-France has agreed to take over the Paris – Amiens – Boulogne and Paris – Saint-Quentin – Maubeuge/Cambrai routes. The government is to provide €15m a year towards operating costs and €400m for rolling stock.
Occitanie is taking over two scenic routes traversing sparsely populated rural areas, including from January 1 2018 Clermont-Ferrand – Nîmes where central government is to invest €30m in rolling stock and provide €43m for infrastructure upgrades through its wider funding agreement with the region. Since January 1 for an experimental period of two years, Occitanie has been jointly responsible with central government for the Clermont-Ferrand – Béziers route. Central government is contributing €4∙5m a year to TET operating costs in Occitanie until 2022.
Under the latest agreement to be signed, on January 1 2018 Centre-Val de Loire is to become responsible for the Paris – Montargis – Nevers, Paris – Orléans – Tours and Paris – Bourges – Montluçon routes. Central government is to provide €24∙5m a year towards operating costs, and invest €480m in rolling stock.
According to the government, its 'unprecedented' investment in rolling stock totalling €3∙5bn will completely renew the TET fleet, so that by 2025 all passengers on these routes will benefit from new trains. Regions will have the choice of selecting their own rolling stock, with central government making a funding contribution, or receiving follow-on builds of Alstom's Coradia Liner.
The TET operating agreement that the government has finalised with SNCF Mobilités for 2016-20, with an option to extend to 2023, will see a total of €1∙67bn provided to meet the operating deficit, including those routes that central government is to retain. The €400m provided in 2016 is expected to fall to €250m in 2020 as routes are transferred to the regions and taking into account expected productivity improvements.
The 18 routes to be transferred to the regions had a deficit of €165m in 2016, and central government support for these services will rise to €53m once the programme is completed. Providing what they say is an equally unprecedented €115m a year to meet operating costs, the regions expect SNCF Mobilités to exploit the synergies between the TET and TER networks that it operates.