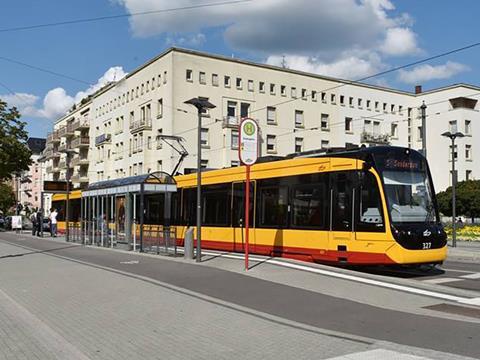 GERMANY: Karlsruhe tram-train operator AVG announced it had awarded a consortium of Stadler Rail Valencia and electrical equipment supplier Vossloh Kiepe a firm order for a further 25 Citylink NET 2012 low-floor vehicles on March 24.
This is the second option on a contract signed in October 2011. The 25 vehicles from the €75m initial order are now in service, the first of the second batch of 25 is to be delivered shortly, and the latest batch will be delivered from autumn 2017, taking the Citylink NET 2012 fleet to 75 cars.
The latest batch of tram-trains are to be used on routes S1/S11 from Hochstetten to Bad Herrenalb and Ittersbach, and will have dual approval under BOStrab light rail and EBO railway regulations.