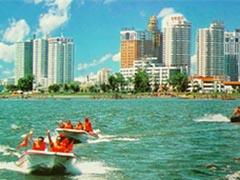 CHINA: MTR Corp, Shenyang municipal government and Shenyang Metro Group have signed an agreement in principle for the Hong Kong metro company to operate and maintain Shenyang Metro lines 1 and 2 for 30 years.
Under the November 26 agreement MTR Corp will hold a 49% stake in a joint venture to be established with Shenyang Metro Group, a wholly-owned subsidiary of Shenyang Municipal Government. The joint venture will reach an operation and maintenance franchise agreement with the city government.
Scheduled to open in 2010, the 28 km east-west Line 1 will have 22 stations. The 22 km Line 2 will open two years later, running north-south with 19 underground stations.
Under a separate agreement, MTR and the city government will conduct planning studies for the future lines 4, 9 and 10 and also proposed extensions to lines 1 and 2. A study will also be undertaken in property development opportunities along the line 1 and 2 corridors.
Joint venture partners MTR Corp, Beijing Infrastructure Investment Co and Beijing Capital Group are to negotiate a concession to operate Beijing's Daxing Line. Construction of the 11 station, 22 km extension of Line 4 from Gongyixiqiao south to Nanzhaolu commenced in December 2007 and the line is expected to be completed by 2010.