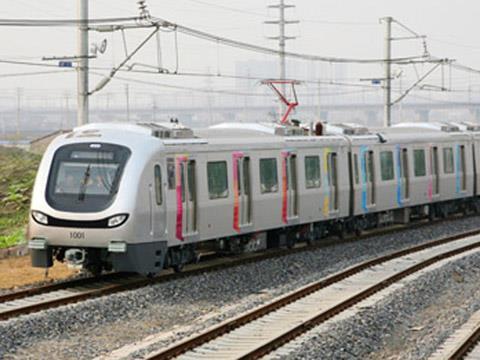 INDIA: The first metro train to be built in China for India was shipped from Shanghai on March 23. BOT concessionaire for the Versova - Andheri - Ghatkopar line, Mumbai Metro One, had specified bright colours inside and out, and manufacturer CSR Nanjing Puzhen Rolling Stock described the first train as 'pretty as a bride', with 'gorgeous decorations, beautiful butterfly film, smooth stainless steel body and rich Indian tone.'
CSR was awarded the Rs6bn contract to supply 16 four-car trainsets for the 11·4 km line in May 2008; Mumbai Metro One has an option to increase this to 18 six-car sets.
The design is derived from the Chinese domestic Type A design, with the stainless steel body widened by 200 mm to increase capacity by 72 to 390 passengers.
Mumbai's hot, wet and dusty coastal location combines with an average station spacing of just 980 m and 80 m minimum radius curves to impose demanding technical requirements for the 80 km/h standard gauge units, which are CSR's first 25 kV AC metro trains.
The Nanjing Puzhen plant is CSR's main centre of metro development, and has won orders from Shanghai, Nanjing, Hangzhou, Suzhou and Shenzhen. CSR said wining the Indian export order was a 'breakthrough' for Chinese industry.