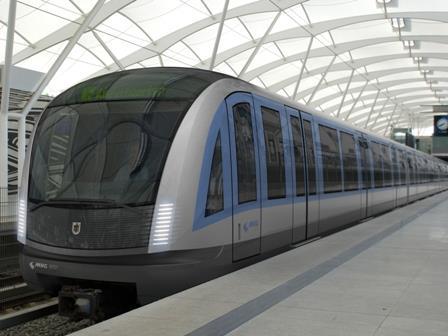 GERMANY: City utility company Stadtwerke München has placed an €185m order with Siemens Mobility for 21 six-car U-Bahn trains, with delivery scheduled for 2013-15.

Two-thirds of the new rolling stock, designated Type C2.11, will replace some of the existing Type A vehicles which are now 40 years old. A total of 356 Type A cars were acquired in 1970-84. The remaining seven trains will allow MVG to increase capacity from 2014, by reducing headways on central sections from 150 sec to 120 sec.

The C2.11 vehicles will be similar to the 108 Type C1.9 and C1.10 cars bought by MVG in 2002-06. However, the seating layout has been altered to increase standing room, raising train capacity from 912 to 940 passengers. Other changes include coloured LED lighting strips on train door edges to improve visibility of door movements, LED headlights and interior lighting. Maximum speed will increase from 80 km/h to 90 km/h. The trains will be equipped for future driverless operation.

The contract also includes two options, each for a further 23 six-car trains, for take-up in 2016 and 2020; total contract value for all 402 cars would be €550m. Delivery of the optional vehicles from 2017-18 onwards would allow further fleet modernisation and capacity enhancement. Around 60% of the MVG fleet is due for renewal by 2025.

The Land of Bayern has previously provided 50% of the funding for MVG's rolling stock purchases but support is currently limited to 25%. An application for finance from the government of Oberbayern is in hand and Bayern Minister of State Martin Zeil has promised to provide funding.

An extension of Line U3 from Olympia-Einkaufszentrum to Moosach, with an intermediate station at Moosacher St-Martins-Platz, is due to open on December 11.