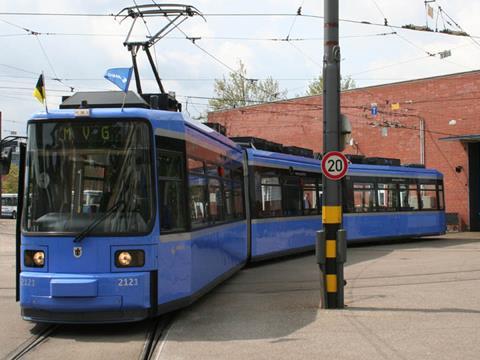 GERMANY: The first of München's 50 Type R2.2 low-floor trams to undergo a mid-life refit was revealed by operator MVG on May 17. Supplied in 1994-97, the three-section cars are all to be refurbished by the end of 2011 under a programme valued at €15m. Following a European tender, the work was awarded to a consortium of Vossloh Kiepe and IFTEC, a joint venture of Leipzig transport operator LVB Siemens.

The rustproof steel bodyshells and electrical equipment were found to be in good condition, but the wheel housings and doors have been renewed. Wooden floor panels have been replaced by plastic, helping to protect underfloor equipment against humidity and improving noise absorption. The inward-opening doors have been replaced by sliding-plug doors, releasing space for an extra eight seats in each three-section car.

After 15 years of intensive use, under which each car has already covered more than 1 million km, the vehicles have also been repainted. Despite a campaign for a return to the traditional Bayern colours of blue and white, used until 2000, the refurbished cars are being outshopped in MVG's standard blue livery with white aluminium trim and black strips around the windows.

MVG boss Herbert König says the refurbishment provided a welcome opportunity to remodel the interior layout at the same time as undertaking the 'inevitable' technical renewals. He is pleased with the changes to the seating, which provide a pleasant feeling of space, and a new lighting concept with two continuous light strips. Each car is now provided with two pairs of video screens providing passenger information and infotainment. CCTV cameras have been installed to improve passenger security and reduce the risk of vandalism. Air-conditioning has been installed in the driver's cab.

Meanwhile, MVG is developing plans to expand the city's tram network from its current 75 route-km to around 100 km over the next few years. Back in the 1980s it was expected that the trams would have disappeared completely by 1994 as the U-Bahn network was developed, but the remaining routes have proved indispensable. The closed line 17 was successfully reopened, and a new 3 km route 23 has been built to Schwabing, which is partially in operation and will be finished next year. MVG has now unveiled plans for a new route 22 as a 'western tangent' linking Romanplatz in Neuhausen and Aidenbachstraße U-Bahn station in Obersendling. Other routes are also to be extended. The proposed 'north tangent' line through the Englischen Garten, which was blocked for environmental reasons, may be resurrected once it is possible to operate the route without overhead catenary.