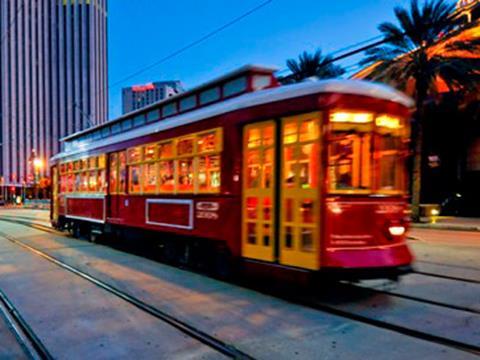 USA: The Loyola Avenue extension of the New Orleans tram network opened on January 28, ahead of Super Bowl XLVII which is to be held at the nearby Superdome stadium on February 3.
Starting at the Union Passenger Terminal inter-city rail and bus station, the new double-track line runs 1·3 km along Loyola Avenue with stops at Julia Street, Poydras Street and Tulane Avenue. At Canal Street it joins the line towards the riverfront which opened in 2004.
Services are operated using RTA's existing fleet of modern air-conditioned heritage-style cars, built to the network's unusual 1 586 mm gauge.
The extension is intended to improve access to the city's public transport system from the Central Business District, and to support projects including the $185m South Market District mixed-use transit-oriented development.
A groundbreaking ceremony was held on June 7 2011. HDR undertook environmental assessments, AECOM was responsible for engineering and design, Parsons Brinckerhoff for project management and Archer Western was general contractor.
The project has been primarily funded by a $45m grant from the federal Department of Transportation's TIGER programme, plus a $4·4m local contribution.
The Federal Transit Administration also awarded New Orleans Regional Transit Authority a $0·4m grant to establish a streetcar maintenance training programme for disadvantaged workers which is run in conjunction with Delgado Community College.
'The new streetcar extension is a big win for New Orleans, bringing new jobs and housing choices into the South Market District, and making it easier for residents and visitors alike to hop the streetcar to get to the Super Bowl without sitting in traffic,' said Federal Transit Administrator Peter Rogoff. 'Bringing more transit choices to New Orleans is essential to helping this city rebuild neighbourhoods and thrive in the years ahead.'