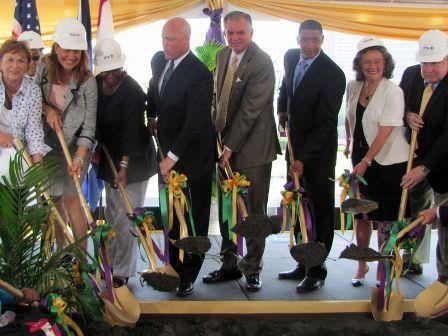 USA: Secretary of Transportation Ray LaHood joined New Orleans Mayor Mitch Landrieu and other officials at a ceremonial groundbreaking for the Loyola Avenue streetcar line on June 7.

The 2·4 km tram route with four stops linking Union Passenger Terminal and Canal Street will receive $45m in federal funding. Six bids have been submitted for the $34·5m contract to build the line; a decision is expected on June 28 so that work can start in July. The route is due to enter service in June next year, worked by spare vehicles from the Canal Street and Riverfront lines.

Speaking at the groundbreaking, LaHood announced that the Department of Transportation had awarded the New Orleans Regional Transit Authority a $400 000 grant to set up a streetcar maintenance training programme designed to create jobs for skilled workers.

The grant is one of 12 awards totalling $3bn made by the FTA to support workforce development; other major recipients include RTD Denver, Los Angeles Metro, the Greater Cleveland Regional Transit Authority and Chicago Transit Authority.