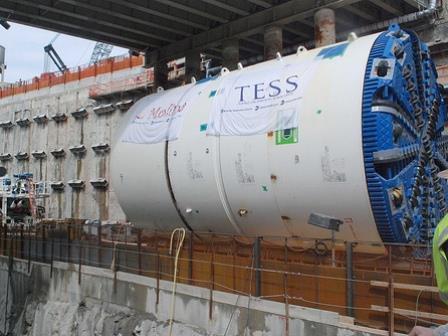 USA: Following a dedication ceremony in New York on March 21, two tunnel boring machines should soon begin digging the final set of tunnels for the East Side Access project. These will connect the Long Island Rail Road with Grand Central Terminal.

The 642-tonne TBMs, named Tess and Molina by pupils at the Oliver Wendell Holmes School in Long Island City, have a 6·7 m diameter cutter and are designed to handle the soil conditions — a mixture of sand, clay and boulders — found in Sunnyside. They will bore four tunnels under the LIRR Sunnyside Yard in Queens, connecting the LIRR main line with the existing 63rd Street tunnel under the East River which leads to Grand Central station.

The TBMs will be launched by the GTF joint venture of Granite Construction Northeast, Traylor Bros and Frontier-Kemper Constructors, which won a $730m contract in September 2009 to build the Sunnyside tunnels.

Meanwhile, two other TBMs currently excavating tunnels and caverns in the bedrock beneath Manhattan for East Side Access are on schedule to complete their work in May.

MTA estimates that the ESA project, scheduled for completion in 2016, will reduce journey times for 160 000 commuters working on the East Side of Manhattan by up to 40 min a day, as they will no longer have to travel by bus or subway to their jobs from Penn Station on the West Side.