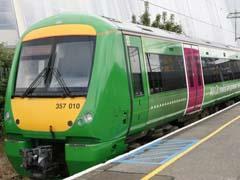 TO EMPHASISE its claim as the only UK train operating company to have 100% of its fleet capable of regenerative braking, c2c unveiled Electrostar No 357 010 in a distinctive green livery at London Fenchurch Street station on June 4.
The fleet of 74 Class 357s is now exceeding the target of delivering a 16·5% reduction in electricity consumption, with an average of 21% of the total traction power consumed by the TOC now being returned to the overhead supply.
Whilst the Virgin West Coast Pendolino fleet also works in regenerative mode, c2c pointed out that VWC also operates diesel-powered Voyager sets and a locomotive-hauled rake on some services. It is hoped that higher than expected savings from regenerative braking at c2c will strengthen the environmental and economic case for further railway electrification in the UK.