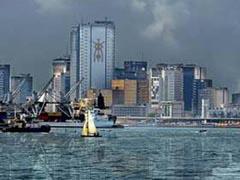 NIGERIA: After more than two decades of abortive attempts to patch up or reconstruct NRC's ailing 1 067 mm gauge rail network, the government is now looking to hand the whole lot to the private sector. According to Transport Minister Alhaji Ibrahim Bio, legislation is being prepared that will pave the way for a concessionaire to run the network from June 2010.
Nigeria has long harboured dreams of converting to standard gauge, but ambitious plans for Chinese firms to build a complete new network collapsed in 2007 amid an acrimonious disagreement over who was supposed to provide the funding. Last year the World Bank advised that renovation of the existing lines would be more cost-effective (RG 3.08 p138).
Previous attempts to revive NRC have floundered, despite the acquisition of Chinese locomotives and rolling stock. Bio says the railway is in a 'deplorable condition', which 'no reasonable investor' would be willing to take on. But President Umaru Yar'Adua has reportedly instructed the Federal Executive Council that NRC should be ready for concessioning in 44 weeks. As Bio explains, 'we don't want the Nigerian Railway to be run by the government any longer, because past experiences have shown that if you use the same management system, it will collapse.'
The FEC meeting in Abuja on June 17 approved the purchase of 25 diesel locomotives from General Electric for which a letter of intent had been awarded in May. Valued at N114bn, the C25 EMPDs are expected to be delivered in eight to 10 months. Meanwhile, work is to get underway on refurbishing the infrastructure.
The transport minister believes that a fully liberalised rail sector would encourage private entrepreneurs to invest in new railways, such as a 'potentially lucrative' Lagos - Benin - Calabar route. In the light of past performance, he would be doing well to get a concessionaire in place and the railway functioning properly before worrying too much about new lines.