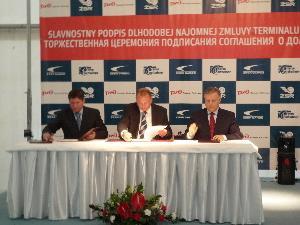 SLOVAKIA: In a ceremony at the Dobra container transfer terminal near the Ukrainian border, Minister of Transport Lubomir Vazny signed a Memorandum of Intent on November 25 with Russian Railways President Vladimir Yakunin and Deputy Director of Ukrainian Railways Michael Kospjuk for the construction of a 1 520 mm gauge railway to Wien. Running mainly through Slovakian territory the line would make use of the existing broad-gauge route which serves the steelworks at Kosice, the country's second-largest city.
The agreement to develop the broad-gauge route, requiring an anticipated investment of US$4·3bn, builds on an earlier prototcol signed on April 4 by representatives from RZD, UZ, Slovak infrastructure manager ZSR and Austrian Federal Railways. This intitiated 'pre-project' analysis and feasibility studies for the scheme.
Describing the project as 'one of the options for integrating transport between the countries of the European Union and Russia', Yakunin said that the line could be operational in about five years. 'This project has a pan-European character', he insisted, adding that 'door-to-door delivery of freight to the centre of Europe without changing the track gauge will enable a significant increase in delivery speed.' As well as traffic from the Pacific Rim and China moving east, he also envisages increased flows of European goods into the growing markets of Russia, Ukraine and central Asia.
Yakunin and Vazny were in Dobra to mark the signing of an agreement under which Russian intermodal operator Transcontainer is leasing the terminal from ZSSK Cargo for 15 years with effect from July 1 2009. Completed in 2002, the terminal has the capacity to transfer 700 TEUs per day, but is currently handling no more than 2000 TEUs a year, together with the road-rail transfer of palleted goods including metal components.
Transcontainer and ZSSK Cargo are planning to develop a regular intermodal service along Corridor V linking Moscow with the Adriatic ports of Trieste and Koper, under an international agreement signed on July 17. Transcontainer will introduce its own block trains between Moscow and Dobra through Ukraine, and is currently tendering for an operator to handle the 1 435 mm gauge services serving its new hub from the west.
Suggesting that regular services could begin by the end of 2008, Transcontainer's Director-General Petr Baskakov said he was convinced that 'the terminal in Dobra will become a reliable gateway for European cargo in the same way that Zabaikalsk [on the Russian-Chinese border] is for East Asian cargo.' He believes the facility could soon be handling more than 250 000 TEUs per year, although the initial target for 2009 is a more modest 25 000.