Alstom's AGV demonstrator faces a lengthy programme of testing and approvals before the first trains enter revenue service in 2011. Technical Director François Lacôte talks to Chris Jackson in Velim.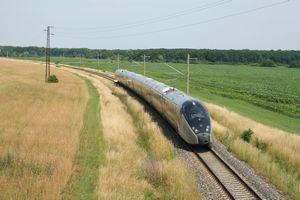 With construction of the first production trainsets for Italian open-access operator NTV scheduled to get underway before the end of this year, Alstom Transport is pushing ahead with an extensive commissioning and testing programme to get its AGV demonstrator Pégase approved for operation throughout western Europe.
Rolled out at La Rochelle earlier this year (RG 3.08 p146), the seven-car trainset is now racking up the miles around the test ring at Velim in the Czech Republic. Alstom has booked the 13 km main loop exclusively for four months between May and September in order to put the demonstrator through its paces. The train is expected to run almost 60 000 km while it is at Velim.
According to Alstom's Technical Director François Lacôte, achieving full certification with the European TSIs and approval to operate in different countries is likely to take more than two years. He is not expecting to get final sign-off until the end of 2010, 'if all goes well'.
Nevertheless, during a visit to Velim on June 25 Lacôte said he was pleased with the early results. Based on his experience with TGV development over the past 30 years, he explained that 'despite all the design and simulation that goes on before the actual construction starts, there are still a lot of uncertainties when a new train runs for the first time'. But Pégase was performing as expected — 'our first impressions are good', he confirmed.
Programme ramps up
The test programme began with a series of static and low-speed trials at La Rochelle before the AGV was dispatched to Velim in mid-May. This included basic mechanical and electrical checks under both 25 kV 50 Hz and 3 kV DC, to ensure that the demonstrator was fit to travel.
Lacôte says one of the main benefits of using Velim is that Alstom does not have to worry about securing paths on an increasingly busy operational network. As the test centre is physically and electrically isolated, the builder is free to test the train's electro-magnetic compatibility without the risk of any interference from elsewhere.
During the trials the train is being driven by local staff from CD subsidiary VUZ, which operates the Velim test centre. But Alstom has sent its own team of 15 engineers to the Czech Republic to run the tests and analyse the results. Two of the seven vehicles have been fitted out as mobile workstations, backed up by a generator car, another acting as a spare parts store and a fifth providing staff accommodation. Two cars have been fitted with first and second class seating for use by visitors and guests.
For the trials, Pégase has been equipped with more than 2 000 sensors.The first part of the programme is focusing on the AGV's wheel-rail ?dynamics and the pantograph-catenary interface. Lacôte believes that 'the key to high speed running is to get a bogie that is stable at very high speeds'. He says 'AGV is designed for perfect performance at 360 km/h', adding that 'this bogie has a safe speed far above that required for commercial service — probably higher than 600 km/h'. He points out that the AGV's bogies and permanent-magnet motors were comprehensively validated with a series of runs at speeds well over 500 km/h during the V150 high speed test programme last year.
Other tests will check the traction and braking systems, including the wheelslip protection and regenerative braking, and the performance of the traction package on all four supply voltages. An array of lineside microphones will enable Alstom to monitor acoustic performance, and wind tunnel simulations of the aerodynamic drag will also be verified.
Pégase is being run around the ring at steadily increasing speeds, having reached 150 km/h by the end of June. Although the main ring is officially limited to 210 km/h and the test programme only goes up to 200 km/h, Lacôte hopes to be allowed to run ?Pégase up to 240 km/h before the ?trials at Velim conclude.
Germany, France and Italy
Following the four-month programme, Pégase is due to visit Berlin for the InnoTrans trade fair in September. After that it will return to La Rochelle for any rectification or modifications needed as a result of the Velim testing. Towards the end of this year the train is expected to start high-speed testing on LGV Est.
Lacôte says at this stage the train will only run at night, because the lack of certification means that it cannot operate with regular traffic. Nevertheless, he expects to be able to work the demonstrator up to its design speed of 360 km/h during this stage of the testing. Subject to the certification bodies accepting the initial test results, Alstom then expects Pégase to go to Italy for three months of trials starting in March 2009.
With the first of the NTV trains due for delivery in mid-2010, Lacôte expects construction to start towards the end of this year, beginning with long-lead components such as the traction equipment, bogies and bodyshells. Current plans call for 14 of the 11-car sets to be assembled at La Rochelle and the remainder at Savigliano in Italy. Lacôte says this is not to do with having local content, but simply to ensure that all 25 trains can be completed in a relatively tight timescale.
Although the intention is to make AGV a fully interoperable train, able to compete in the liberalised European international passenger market after 2010, Lacôte will not be drawn about other potential customers. At the time of the launch in La Rochelle, Air France CEO Jean-Cyril Spinetta was reported to have expressed interest in the AGV, and the airline recently confirmed that it was in discussions with Veolia Transport about a joint venture to run high speed trains (p489).
Double-deck ambitions
SNCF will be looking to replace its first-generation TGVs in the next decade, but President Guillaume Pepy has insisted growing demand means that future high speed trains are likely to be double-deckers. Alstom is currently delivering the first of 80 second-generation TGV Duplex sets, officially designated RGV-2N2 by SNCF, under a contract which includes an option for a further 40 sets.
Pepy has reportedly expressed interest in a double-deck version of AGV, which Lacôte says would be 'a huge challenge'. Earlier this year he insisted that Alstom would continue to offer two separate high speed train platforms, but now he concedes that 'SNCF is a very important customer — if Guillaume Pepy wants a double-deck AGV we will start working on it'.
He is under no illusions about the difficulties. 'With the TGV Duplex it took a lot of effort to meet the axle-load limits', even with the aluminium bodyshells. He explains that AGV already has aluminium bodies, but in this case a major contributor to the axleload is the distributed electrical equipment along the articulated trainset. Combining a double-deck body with distributed power 'would be a long haul', he concludes, adding that in design terms 'we would have to start again'. And although that might be a long term goal, 'our first task is to make this train reliable'.
'If Guillaume Pepy wants a double-deck AGV, we will start working on it'
François Lacôte, Technical Director, Alstom Transport