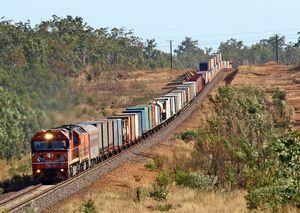 AUSTRALIA: Adelaide to Darwin railway concessionaire FreightLink announced on May 19 that it had appointed UBS to advise on the sale of the business, and expressions of interest were now being sought.
CEO John Fullerton said the sale 'will provide the opportunity for the new owners of FreightLink to capture substantial growth in the future, especially from the haulage of bulk minerals for export and to participate in new rail opportunities across the inter-state network.'
In 2001 FreightLink was awarded the concession to build the Alice Springs - Darwin line, and operate the 2 240 km Tarcoola to Darwin route for 50 years. Operations began in January 2004, and FreightLink has since carried more than 2·5 million tonnes of non-minerals freight. Around 90% of Adelaide - Darwin freight now goes by rail, and for the year to June 30 2008 the company expects to carry almost 800 000 tonnes. However traffic has been lower than was expected.
In the minerals sector, FreightLink began carrying manganese ore from the OM Holdings mine at Bootu Creek to Darwin in April 2006, then in July last year it started moving iron ore from Frances Creek for Territory Resources. Later this year the railway will begin to carry copper-gold concentrate from Oxiana's Prominent Hill mine in South Australia to Darwin.