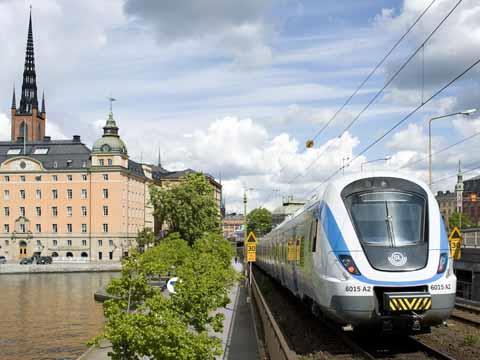 SWEDEN: On May 11 Alstom Transport announced a €102m order to supply Stockholm public transport authority Storstockholms Lokaltrafik with 12 Coradia Nordic electric multiple-units for use on Stockholm - Uppsala services from 2012.
The articulated six-car 15 kV 16·7 Hz units will have space for 374 passengers, asynchronous traction motors and a top speed of 160 km/h. They are to be built at Alstom's Salzgitter site in Germany, with traction equipment from Tarbes in France and auxiliary converters from Charleroi in Belgium.
Alstom has previously supplied 71 of these X60 trainsets to SL, and has sold a total of 162 Coradia Nordic units in Sweden. They have roof-mounted ABB transformers, static converters and air conditioning equipment, making them well suited to local winter conditions.