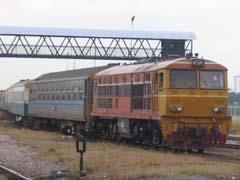 ASIA: The Singapore - Kunming Rail Link was on the agenda of the 10th ASEAN-Mekong Basin Development Co-operation ministerial meeting, which was held in Singapore and concluded on August 29.
Around 550 km of new line is planned under the SKRL project, completing a 7 000 km metre-gauge rail network connecting seven ASEAN countries plus China.
Noting that the missing links are at various stages of development, the ministers agreed that the 10th SKRL special working group meeting will be held in the Malaysian city of Putra Jaya on November 22.
In 2006 the total cost of the project was estimated at US$2bn. A conference to attract investment will be convened in early 2009, and Malaysia accepted an invitation to be permanent chair of the working group.