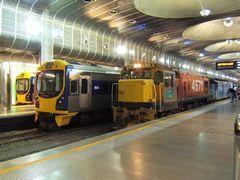 NEW ZEALAND: KiwiRail is call tenders early in the New Year for the supply of up to 114 electric multiple-unit cars for Auckland, following the cabinet's approval of a NZ$500m loan on November 24.
The first of the 1 067 mm gauge EMUs will enter service on the Eastern and Western suburban lines in 2013. Auckland Regional Transport Authority will also lease up to 13 electric locomotives to haul ex-British Rail SA and SD coaches on the Southern Line.
The government has previously allocated NZ$500m for 25 kV 50 Hz electrification of 150 route-km in Auckland, and NZ$600m for the Developing Auckland's Rail Transport infrastructure upgrading programme (RG 11.09 p44).
The NZ$500m for the trains will initially be provided as a loan to a rolling stock company owned by KiwiRail. A final decision as to whether it will be form a loan or equity will depend on ongoing analysis of KiwiRail's capital structure.
The previous government had planned to fund the EMUs through a regional road fuel tax, but this was dropped by the incoming administration, which also rejected PPP funding as complex and expensive.
The operation of suburban trains in Auckland and Wellington will be put out to tender.