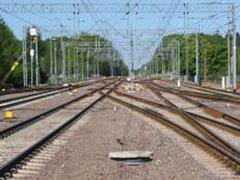 POLAND: The CMK fast line linking Warszawa with Silesia is to be equipped with ETCS Level 1 under a 50·1m zloty contract signed by infrastructure manager PKP PLK and Thales Rail Signalling Solutions on August 29.
The work is being funded by PKP PLK and the state, but as the route forms part of corridor E-65 a bid is being made for European TEN-T funding.
When it was built in the 1970s the 224 km CMK line between Grodzisk Mazowiecki on the outskirts of the capital and Zawiercie in Silesia was designed for 250 km/h running, but trains are currently still limited to 160 km/h because they lack in-cab signalling.
This will be rectified with the commissioning of ETCS Level 1 by the end of June 2011, allowing trains with a single driver in the cab to reach 200 km/h. This is expected to cut up to 30 min from journey times between Warszawa and Katowice or Kraków.
A further upgrade for 230 km/h running is planned for 2014, and studies are looking into operation at 300 km/h in conjunction with conversion of the overhead electrification from 3 kV DC to 25 kV 50 Hz as part a future national high speed programme.
Dolkom and PKP Energetyka have been awarded a 7m zloty contract to replace two turnouts at Zawiercie to enable speeds to be increased from 40 to 100 km/h.