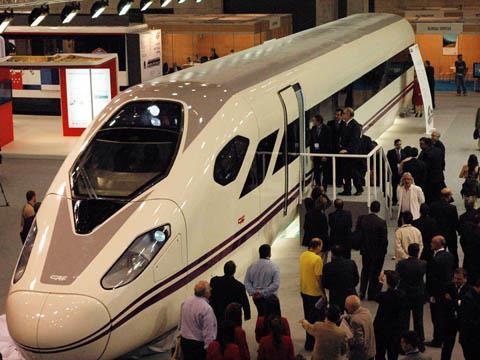 SPAIN: A full-size mock-up of the Oaris high speed train concept being developed by CAF was unveiled at the International Rail Forum exhibition in Valencia on May 25.
The company has been leading one of the work streams in the CENIT programme to develop trains for operation at over 300 km/h, which is being funded by CDTI, the centre for industrial and technical development at Spain's Ministry of Science. This has drawn on experience with the 250 km/h trainsets supplied by CAF for operation in Spain and Turkey.
According to CAF, the Oaris platform is based around a distributed power concept, allowing sets to be formed with four, six or eight coaches. Each vehicle would have one motored bogie with two asynchronous three phase motors and VVVF inverter drive, allowing the installed power to be directly related to train length. A multi-system traction package would allow operation at 1·5 or 3 kV DC, 15 or 25 kV AC. An eight-car set would have two transformers feeding four inverter sets, with one inverter per supplying the two traction motors on that vehicle.
The aluminium bodyshells have been designed to meet all European TSIs and crashworthiness requirements whilst keeping weight to a minimum. Bogies would have helical spring primary suspensions and a pneumatic secondary suspension backed up by transverse and lateral linkages between bogie and car body. Traction motors would be frame-mounted to minimise unsprung weight.
CAF says the trains could be supplied for 1 435 or 1 668 mm gauge, with a gauge-convertible option also envisaged. Oaris is intended to accept a variety of signalling systems now in use across Europe, as well as ETCS.
A range of interior layouts is envisaged, with two or four doors per vehicle. A typical trainset would provide accommodation for two classes - business and tourist - plus a café area. There would be full accessibility for passengers with reduced mobility.
Driving cars would be 26·8 m long and the intermediate vehicles 24·8 m, giving a target length of 202 m for a typical eight-car formation. These could run in multiple to a maximum train length of 404 m. With 920 mm diameter wheels, the floor height would be 1 260 mm above rail.