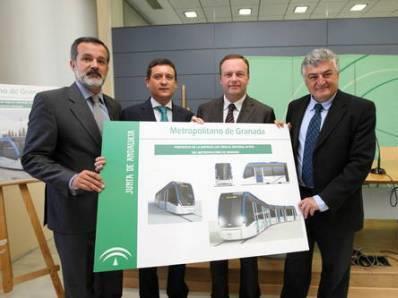 SPAIN: The CAF-Santana joint venture has been selected to supply 13 low-floor trams with energy storage for Granada's initial 15·9 km light rail route.
The €43·9m contract specifies delivery within 26 months and includes maintenance; there is an option for a further four vehicles. Bids were also submitted by Siemens and Vossloh.

The bidirectional trams will be 30 m long and 2 600 mm wide with a total capacity of 200 passengers. Two areas will be allocated for wheelchairs and pushchairs.

The trams will operate using a 750 V DC overhead power supply but will switch to an on-board ACR energy-storage system for catenary-free operation on four separate sections of the route totalling 4·7 km. Maximum speed will be 70 km/h.

The 26 stations will have 60 m long platforms, to handle trams operating in pairs; the three underground stations at Méndez-Núñez, Recogidas and Río Genil will be fitted with platform screen doors.

Construction of the route has been divided into six separate contracts. The Albolote – Maracena and Parque Tecnológico – Poniente sections are almost complete and work is in progress on the remaining four sections. A depot and control centre is also under construction in Maracena.

The light rail project has a budget of €450m. It is expected to enter service in 2012.