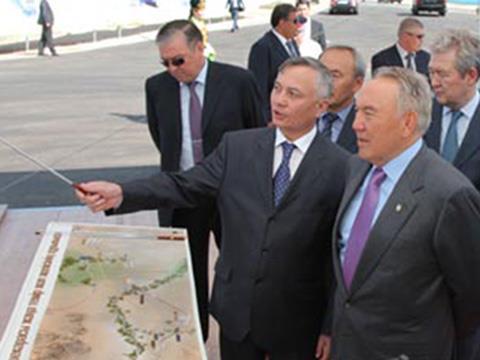 KAZAKHSTAN: President Nazarbayev formally launched construction of the China Gateway Railway with a ceremony in Zhetigen on August 3. Providing a second rail link to China, the 293 km broad-gauge line will run from Zhetigen to Korgas where there will be facilities for transhipping freight to and from a 295 km standard-gauge branch off Chinese Railways' Urumqi line.
The project is being undertaken by the state, after terms could not be agreed with Eurasian Natural Resources Corp, the mining firm which had been selected in May 2008 to develop the project under a 28-year build and operate concession. Detailed negotiations foundered over volumes and tariffs. Railway operations are outside ENRC's core mining business, and the company and government parted on amicable terms when the firm decided that the concession would not deliver value to its shareholders.
The line is expected to open in 2012, easing congestion at the existing Dostyk border crossing and cutting 550 km from the route between China and southern Kazakhstan. The government believes this will lead to an increase in transit traffic, with an initial 5·5 million tonnes of freight using the Zhetigen - Korgas line forecast to reach 25 million tonnes by 2020.
ENRC still expects to make use of the new line, but on commercial terms as a customer to state railway KTZ.