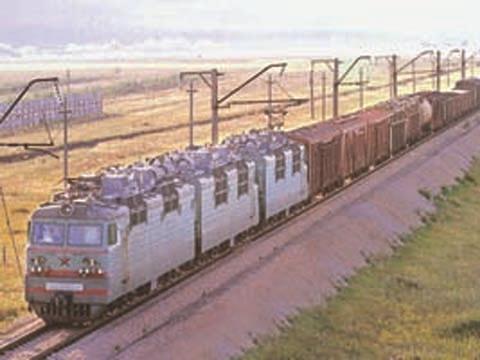 KAZAKHSTAN: Eurasian Natural Resources Corp has signed a US$775m 28-year concession agreement to build and operate the 298 km Zhetigen - Korgas rail link between Kazakhstan and China.
The China Gateway Project to create a second rail link between the countries is a key element of the Kazakh government's infrastructure development programme. ENRC described the contract signed by its ENRC Logistics subsidiary on May 18 as the largest-ever private investment in the country's transport infrastructure.
Plans for the line were set out in an inter-governmental agreement signed by President Nazarbayev on a state visit to China in December 2006. A single-track 1 520 mm gauge railway will be built from Zhetigen near Almaty to Korgas on the Chinese border. There will be stations at Kurozek, Shelek, Sharyn and Zharkent, and a freight handling complex at the border with customs, transhipment and gauge-changing facilities. Work is expected to begin later this year, with operations to commence in 2012. The concession runs to August 31 2036.
On the Chinese side, work started in November 2004 on a 62bn yuan project to build a 295 km standard gauge railway to Korgas, starting from Jinghe on the route from Urumqi to the Dostyk border crossing.
'We are proud to be involved in this great project', said Dr Johannes Sittard, Chief Executive Officer of ENRC. 'The new railway will facilitate the increase in cargo carried between Kazakhstan and China by up to 30 million tonnes per annum. It will provide ENRC's operations with an additional secure transportation route and with an increased capacity for products to be sold into the growing Chinese market.'
Japan International Co-operation Agency has estimated that the volume of cargo transported between Kazakhstan and China will increase from around 19 million tonnes in 2008 to some 46 million tonnes a year by 2020. The Kazakh Ministry of Transport & Communications expects the rail to carry 5·6 million tonnes of freight in its first year, increasing to 15 million tonnes by 2015.