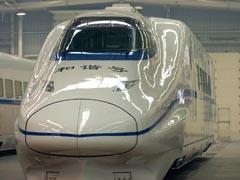 THE FIRST Chinese-built high speed trainset capable of 300 km/h operation was rolled out at Sifang Locomotive works on December 22.
The design is derived from East Japan Railway's E2-1000 Shinkansen trains, and follows from a batch of 60 CRH2 sets developed by a Kawasaki-led consortium and assembled by Sifang in China. The first of these 250 km/h sets entered service in January last year, initially limited to 160km/h but running at full speed from April.
Rolling out the 300 km/h eight-car trainset 'marks that China has joined an elite world club after Japan, France and Germany to become the fourth country capable of turning out such high speed trains', said Ministry of Railways spokesman Wang Yongping.
A subsidiary of China Southern Locomotive & Rolling Stock Industry Corp, manufacturer Sifang Locomotive will deliver 10 of the 300 km/h trainsets to the Ministry of Railways during the first half of this year. They are scheduled to enter service on the Beijing - Tianjin line in advance of the Olympic Games.