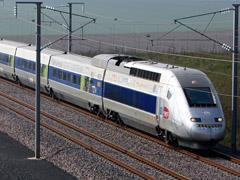 FRANCE: After studying a range of options, Environment Minister Jean-Louis Borloo has confirmed the preferred route for the proposed LGV Provence - Alpes - Côte d'Azur to Nice. This will follow the existing coastal railway through Marseille and Toulon rather than taking a shorter direct route east from Aix-en-Provence.
The future 180 km high speed line will include around 60 km of tunnels to thread through a relatively densely-populated region. This will include a 10 km bore to take the route under the current Marseille Saint-Charles terminus. As well as Aix-en-Provence, Marseille, Toulon and Nice, intermediate stations are envisaged between Les Arcs and Le Muy in the département of Var, and near Grasse.
Writing to local politicians on June 29, Borloo and Transport Minister Dominique Bussereau confirmed that a permanent secretariat would be established to take the project forward and put together the funding package. The total cost is estimated at between €11bn and €16bn, of which the state is expected to contribute €8bn, leaving the rest to be raised locally. A further €4bn would be required to extend the line to the Italian border at Ventimiglia.
Réseau Ferré de France regional director Michel Croc endorsed the decision, commenting that 'the line would either run through valuable natural areas or densely-populated areas. By passing through the middle of the towns, we could offer a better service'. This is a reversal of the policy adopted for other LGVs, where many intermediate stations are located a long way from the towns they serve.
RFF is expected to start work shortly on alignment studies at a cost of €70m, working within a corridor around 7 km wide. This is to be completed in four years, ahead of the public enquiry.
Construction would start before 2020, in line with government commitments under the Grenelle de l'environnement. This suggests that commercial services may not begin until 2023, which would be too late to support Nice's bid to host the Winter Olympics in 2018.