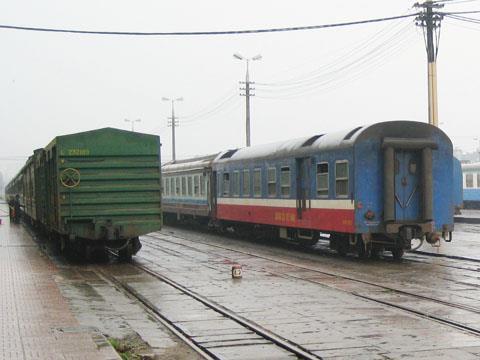 VIETNAM: Minister of Transport Ho Nghia Dung has confirmed plans to upgrade the existing main lines between Hanoi, Hai Phong and the Chinese border crossings at Lao Cai and Dong Dang by 2020.
Speaking at a conference hosted by state railway DSVN, the minister said the routes are important freight corridors but the poor quality of track and signalling is limiting capacity (RG 11.10 p58). The Vietnamese and Chinese governments have created a partnership to plan electrification and double-tracking to provide an operational 1 435 mm gauge route from the border points to Hanoi. Currently the Dong Dang line is mixed gauge, while that to Lao Cai is metre gauge.
Dung has also suggested that the sidelined North-South high speed line project could be completed by 2030. The 1 555 route-km high speed line would link Hanoi and Ho Chi Minh City on a dedicated alignment allowing speeds up to 300 km/h. However, National Assembly deputies voted against the US$55·8bn Japanese funded plan in May 2010. Now the minister has asked for a new feasibility study to be submitted by the end of next year. JICA has already proposed building separate northern and southern sections as an interim measure (RG 10.10 p32).