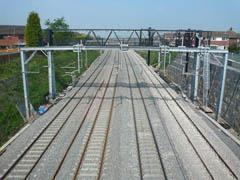 VIETNAM: We reported last month on the plethora of nascent inter-city rail projects emerging in the USA on the back of President Obama's decision to dedicate US$13bn in funding, thus raising the prospect of the country being catapulted up the rankings in the 'hare and tortoise' race to develop high speed links.
At the opposite end of the spectrum, a number of less high profile projects are at various stages from Iran to Morocco. How many of them are viable, especially in the current economic climate, remains frustratingly hard to judge. Take Vietnam, for example: certainly, the planned US$55bn, 1 555 km line to connect Hanoi with Ho Chi Minh City does not lack political support, having been approved in November 2008 by Prime Minister Nguyen Tan Dung under the country's railway development strategy for the years to 2020.
But can it be funded? Many observers are understandably sceptical. Speaking at the Asia Pacific Rail conference in March, Ayumi Konishi of the Asian Development Bank told delegates that 'we haven't been very successful in persuading private sector participation in major infrastructure projects thus far.' State funding would clearly be a prerequisite, and even then there are competing investment priorities across southeast Asia, particularly road and power supply infrastructure. There are also the 'missing links' in the Trans-Asean Railway to connect Vietnam's metre-gauge network with its neighbours, Cambodia and Laos.
Dung is not deterred however. He has asked state railway DSVN to prepare an investment proposal, which was due to be submitted to the State Appraisal Council by the end of August. It seems that Japanese official development assistance funds will be central to financing the project, as Japan seeks to create export markets for its high speed rail technology. Shares in its major rolling stock manufacturers, led by Kawasaki Heavy Industries, surged on August 13 after DSVN's Chairman & Chief Executive Dr Nguyen Huu Bang told the Nikkei newspaper that Shinkansen technology would be adopted for the north-south line, as this is likely to be a condition attached to any ODA funding. But reports from Japan suggest that the line could only be funded in stages, with completion unlikely before the mid-2030s - so perhaps we should not get too excited just yet.