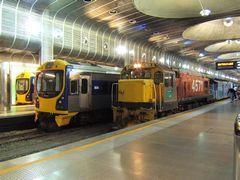 NEW ZEALAND: It looks as if private ownership of the country's railways may be drawing to a close, 15 years after Tranz Rail was sold outright to an international consortium led by Wisconsin Central, Fay Richwhite and Berkshire Partners.
The railway has had a rocky ride. WC's charismatic and expansionist President Ed Burkhardt was forced out, and the WC empire was bought by Canadian National. With the backing of the other partners, the New Zealand operations were sold to Toll Holdings of Australia, which in turn agreed in 2003 to sell the rail infrastructure back to the government for a nominal NZ$1.
Toll kept the train operations and inter-island ferries, but its cuts to inter-city passenger services generated adverse comment. Auckland Regional Transport brought in Veolia to run the city's expanding suburban rail services under contract. Toll's freight operations have not escaped criticism either, with high-profile customers deserting rail for road or coastal shipping.
With Toll and infrastructure manager Ontrack still mired in discussion over the structure of track access fees after five years, Finance Minister Dr Martin Cullen confirmed speculation last month that he was looking to take the remaining rail and ferry assets back into public ownership.
'The government made an offer [but] Toll said that was absolutely no good', he told the NZ Herald. Toll apparently responded with a counter-demand that was 'significantly higher than NZ$700m'. The government has since 'upped the offer', and Cullen insisted that the latest proposal was 'above quite a lot of the valuations that we have for the business'. He is looking for rapid progress, but has 'made it clear that Toll has got to come back with a significantly better offer if we are to close the gap between us'.
As well as putting pressure on the access charge debate, Cullen sees a buy-back as offering real benefits. 'This is not a business which is ever going to make money overall', he explained. 'We either end up subsidising the private sector, or we end up subsidising ourselves on behalf of the people of New Zealand. We believe that with Crown ownership, we'd be capable of creating a more strongly integrated rail system, not just in terms of goods movement but also in terms of the urban passenger systems where there are inter-relationships.'