GERMANY: DB is to call tenders by the end of this year for new trainsets, currently designated ICX, which will replace its existing locomotive-hauled InterCity and EuroCity fleets from 2013 onwards. Ralf Roman Rossberg reports.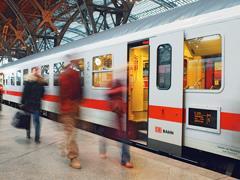 For some time DB Fernverkehr has recognised the need to replace its vast fleets of locomotive-hauled InterCity and EuroCity coaches which, despite extensive refurbishment, are approaching life-expiry. Hence the announcement earlier this year that DB was preparing to call tenders for between 100 and 130 new trainsets (RG 4.08 p205).
The multi-million euro investment effectively marks the end of a period lasting nearly two decades during which the operator has focused primarily on developing its premium corridors between major cities using three generations of ICE high speed trains operating over new and upgraded infrastructure.
The decision also reflects DB's renewed recognition of InterCity as a distinct product offering. In the past, the IC brand had been viewed as increasingly obsolete, on the grounds that the ICE network would grow to include all the major long-distance flows in Germany. However, this attitude is now changing, and DB recognises the need to provide a comprehensive country-wide inter-city service. Moreover, DB believes that the ICE trainsets specifically designed for high speed operation are not really suitable for many inter-city routes.
Today the IC segment comprises 40% of DB Fernverkehr's business and accounts for 30% of its turnover. Although they are slower than the ICEs because of a lower maximum speed and more frequent stops, the InterCity trains fulfil an important function by covering a wide geographical area, providing services between neighbouring regional centres and, crucially, connecting the nodes of the ICE network.
Fixed or flexible formation?
The replacement trains have been branded 'ICX', and it seems likely that, at least in aesthetic terms, they will resemble the ICE3 sets. Internally, DB can also draw upon the experience it has gained with the ICE1 refurbishment programme, which will shortly come to an end (RG 8.05 p497). However, DB still appears to be open-minded about the ICX traction package — all options remain on the table, despite widespread reports that an eight-car multiple-unit would be specified. 'These trains must be better suited to the requirements of the market than those previously offered', says Dr Karl-Friedrich Rausch, head of DB's passenger business, by way of explanation.
One potential consideration is the lack of flexibility of fixed-formation trainsets. The ICE1 trains can only be lengthened or shortened by inserting or removing trailer cars during works visits, and whilst the shorter ICE2 and ICE3 sets can be coupled together to provide greater capacity, there is no gangway connection between units, so two separate bistro or restaurant cars must be retained, each with its dedicated staff.
Austrian Federal Railways' push-pull railjet concept (RG 11.07 p713) could provide one example to follow. 'The industry should be thinking about that', Rausch says, adding that DB itself has no intention of participating in the technical development of the ICX product.
Energy efficiency
Until now, DB Fernverkehr's IC services have generally been operated with seven to 11-car locomotive-hauled formations running at up to 200 km/h. Most trains include a restaurant or bistro car, and on electrified routes they are often hauled by Class 101 locomotives. The coaches, which are all air-conditioned and are configured as a mixture of open saloons and compartment stock, went through a major refurbishment programme in the mid-1990s. This involved installing electronic passenger information and seat reservation displays, as well as laptop-friendly tables.
Nevertheless, whilst the Class 101 locomotives are relatively modern and could easily be allocated to other duties, DB Fernverkehr's Business Development Director Dr Manuel Rehkopf says 'the basic rolling stock of the inter-city fleet is now quite old, and in many ways it no longer meets today's technical standards, particularly in terms of energy consumption. This is why we are keen to invest'.
An announcement confirming an order for between 100 and 130 ICX trainsets, with maximum speed of between 200 and 250 km/h, is expected before the end of this year. Exhaustive testing of the first train should begin by 2013 at the latest — Rehkopf insists that 'from the outset, we are looking to bring a very stable product into the market; we don't want any teething problems'. A gradual roll-out on a route-by-route basis is expected to begin in 2015, with the old rolling stock phased out first on the busiest services, such as those linking the Ruhr region with Hamburg.
'We do not want a fully-fledged ICE, but a train that is tailored to the specific demands of today's long-distance market', Rehkopf concludes.