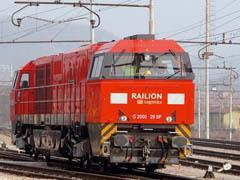 ITALY: On September 17 DB Schenker subsidiary Railion Italia announced that its offer for a 49% stake in Milano-based rail freight company NordCargo had been accepted. Spun off from parent company Ferrovienord in 2003, NordCargo operates between Germany, Switzerland and Italy, with 182 employees and revenue of €34m in 2007.
A final contractual framework will be signed imminently. 'Collaboration between Railion Italia and NordCargo will enable us to make better single-source offers to our customers in northern Italy, as well as along the north-south corridor,' said Dr Norbert Bensel, head of DB Schenker. 'We see numerous synergies between both companies and have now acquired the dimensions in the Italian market that will help us to develop our rail freight transport business at an even faster pace in Italy.'
Railion Italia was created in 2005 through the renaming of Italian freight operator Strade Ferrate del Mediterraneo, in which DB had acquired a 95% stake the previous year.