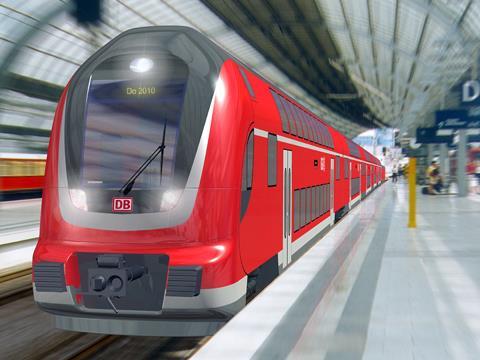 GERMANY: On January 5 Deutsche Bahn and Bombardier Transportation announced a framework agreement worth up to €1·5bn for the supply of 800 double-deck coaches, including DB's first double-deck EMU cars. DB will use the vehicles to compete in tenders for the provision of local rail transport.
'For the first time ever, we will have powered double-deck coaches in our fleet', said DB Regio Chairman Ulrich Homburg. 'Individual coaches, driving trailers or trailer coaches can be added as well, depending on what the trains are being used for'.
DB Regio currently has more than 2 000 double-deck coaches in its fleet, and the new stock will be compatible with previous generations.
In 1998 Bombardier, Adtranz and Siemens developed a three-car double-deck EMU for possible use by DB. Known as Meridian, the aluminium-bodied Class 445 was built as a demonstrator and shown at the 1998 InnoTrans trade fair. The outer two cars were powered and the train offered 289 seats. However, no follow-on order was placed.
DWA built six Class 670 double-deck single-car diesel railbuses for DB in 1996, but they have since been sold.
Last month LNVG placed a €46m order with Bombardier for a further 34 double-deck coaches for use on Metronom services south of Hamburg. The Niedersachsen transport authority also ordered 10 two-car Coradia Lint DMUs from Alstom at a cost of €28m.