Freight Railways in the emerging economies of southeast Asia have for too long allowed their market share to be eroded by the road haulage sector. Dr Julison Arifin argues that the industry has often underestimated its role in the logistics mix, and the time has come to fight back.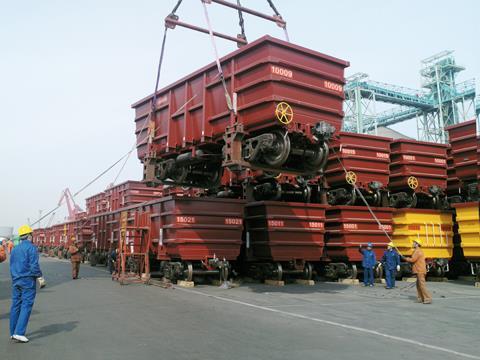 'Too many railways are sleeping whilst the competition is killing us.' That was the stark message delivered by Dr Julison Arifin, Business Development Director of PT Kereta Api, speaking at Terrapinn's Asia Pacific Rail freight event in Hanoi on March 13.
Arifin was forthright in his belief that the greatest challenges facing freight operators in emerging markets are not caused by 'hardware or software', but rather by 'brain-ware'. He argued forcefully that across southeast Asia, freight railways had developed a kind of inferiority complex that had handed the commercial advantage to road, and that not enough was being done to persuade governments - and particularly finance ministries - of what he termed 'rail's inherent advantages'.
'The road can no longer be considered just as a competitor. If we are not careful, it could kill the railway. Our industry is so conservative', he added, citing outmoded signalling equipment as one example of how some railways have failed to make the business case for even modest investment in new technology.
Arguably an even more important shift is required in terms of understanding the roles of rail and road in the freight market. 'Perhaps we need to think about forming an alliance with road hauliers based around infrastructure costs. We are ready to take the heaviest goods off the highway', Arifin said, adding that he had implemented just such a strategy in conjunction with the local highways agency in western Sumatra.
This idea mirrors the ongoing debate in Europe about the internalisation of external costs, although the European Commission's plans to introduce road charging for lorries via the Eurovignette concept have proved highly controversial.
Unfulfilled potential
Arifin echoed the sentiments of other speakers by reflecting on how political changes to transport policy had made winning business more difficult. He suggested that the intermodal market was a potentially highly lucrative sector for PT KAI to target, particularly given Indonesia's geographical spread across numerous islands and its status as southeast Asia's largest emerging economy.
'We in the railway industry are all too often caught napping - we must lobby to protect our own interests', he insisted, referring to the Indonesian government's decision some years ago to separate the management of ports from that of the rest of the national transport infrastructure. This in turn saw private operators emerging as port managers, and in one case this led to the exclusion of PT KAI trains from a port as the operator decided to redevelop the rail terminal at the dockside.
Fortunately, Arifin explained, the government has now recognised the need for a greater balance of modes for freight shipping, and a number of investment projects to bridge the 'missing links' between inland terminals and the major ports of Java are now on the table. These include a plan to create an intermodal terminal at Cikarang on the edge of Jakarta, and the construction of a 45 km line from here to the port of Tanjung Priok which would avoid the current route through the city centre.
Arifin would like PT KAI to follow the example of other freight operators by diversifying into the logistics sector. Already, he said, he recognises the need to bring freight forwarders, port operators, end customers and railway staff together to provide a more integrated service, 'but this is not easy'.
'Perhaps one day I will be able to go out and buy a small trucking company or two as well', he suggested, before admitting that budgetary constraints and limited resources meant that his first priority must be the most profitable flows - usually coal. 'What we need right now is 30 to 60 modern freight locomotives and 800 km of UIC 50 rail', he concluded, affirming that day-to-day operations were his biggest concern.
Dr Julison Arifin is Director of Business Development at Indonesian state railway PT Kereta Api. From 1999 to 2004 he was General Manager for Long Term Planning at PT KAI. He graduated from Institut Teknologi Bandung in 1981 and holds a Masters degree in Railway Systems Engineering from the University of Sheffield.