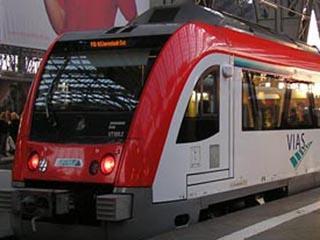 GERMANY: Danish national railway DSB has acquired 50% stake in Frankfurt-based regional train operator VIAS GmbH, giving it a foothold in the German market which it will use to bid for future operating contracts. Subject to regulatory approval the deal will be completed by May.
'VIAS is a well run company and the acquisition fits in well with DSB's international strategy and offers new growth potential in Europe's largest market for rail passenger transport', said DSB Chief Executive Søren Eriksen.
VIAS was established in 2005 by Rurtalbahn and Verkehrsgesellschaft Frankfurt am Main mbH. It operates the 220 km Odenwaldbahn network in the Frankfurt area under a 10-year contract which started in December 2005, and this December will take over services on the 136 km Rheingau route between Frankfurt and Koblenz under a 13-year contract.
DSB is buying VGF's 50% stake, and will bid for future German rail operating contracts in partnership with Rurtalbahn's parent company RATH. The companies have already prioritised their bidding activities and intend to submit joint bids in 2010.
'With the entry in the Germany market, DSB is now building on the success we have already achieved in Sweden, which we see as our second home market', said Eriksen. 'Even though the German market is very complex and different from the Swedish market, our strategy in Germany may well be compared to the strategy we have also used in Sweden. We start on a small scale to acquaint ourselves with the market, and with the new co-ownership, we gain a quick foothold and thereby create the best possible platform for future growth.'