INDIA: Indian Railways has ambitious plans to boost capacity on its busiest suburban network around Mumbai. As part of a comprehensive renewal project, Siemens and ICF are supplying 174 dual-system EMUs to improve reliability and passenger comfort as IR manages the transition to 25 kV AC supply.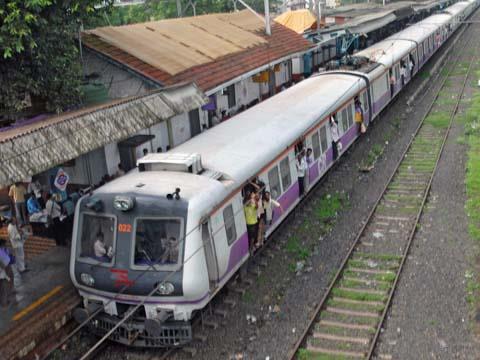 Dr P C Sehgal, Managing Director
Lokesh Narayan, Chief Electrical Engineer
Mumbai Railway Vikas Corp
Local trains around the city of Mumbai are often referred to as the 'lifeline of the financial capital of India'. The suburban network has one of the highest passenger densities in the world, ahead even of mega-cities such as Tokyo and Seoul.
The core routes of the 1 676 mm gauge network are divided between two of IR's operating divisions. Western Railway services from Churchgate run to Borivali and Virar, while the Central Railway operates Main Line services from Chhatrapati Shivaji Terminus to Karjat and Kasara, and Harbour Line services to Panvel and Andheri. The CR Harbour Line from CST to Kurla was the first to be electrified in 1925, and much of the 1·5 kV DC power supply equipment across the network is now life-expired.
In anticipation of the necessary upgrade, Mumbai Railway Vikas Corp was established in 1999 as a joint venture between the Ministry of Railways and the Maharashtra state government to manage rail-related elements of the Mumbai Urban Transport Project. One of the core tasks facing MRVC is to implement a migration from 1·5 kV DC to a more modern, robust and reliable supply, fed at 25 kV AC.
Such is the demand for travel within the urban area and the constrained capacity of the infrastructure, Indian Railways faces a stiff challenge in providing and maintaining EMUs that meet not only stringent reliability requirements but also cater to the expectations of local commuters. CR and WR between them carry more than six million passengers per day, often in crush-loaded conditions of 14 to 16 passengers/m2 of floor space around the doorways. A total of 2 247 services run each day, at 3 min headways on WR and 4 min on CR. In addition, trains using CR's Harbour Line face a gradient of 2·7% on the section through Sandhurst Road.
Carbon credits
In anticipation of the electrical conversion, the construction of new DC trainsets ended in 1998. Two contracts were placed with BHEL and Alstom for the supply of GTO-based dual-voltage electrical systems for 33 nine-car sets, which were introduced into service between 2002 and 2006. A further two contracts have now been placed for rolling stock equipped for dual-voltage operation - 73 sets were ordered under contract GP194 by IR to replace existing stock, whilst a further 101 sets were ordered by MRVC as part of MUTP Phase I.
Both these contracts were awarded to Siemens, which is supplying the IGBT-based three-phase electrical equipment. ICF is undertaking the construction of car bodies and bogie frames, other assembly work, testing and commissioning in Chennai. The total value of the contracts is put at Rs15·2bn.
All the trainsets supplied under these contracts will be equipped for dual-system operation; IR envisages that subsequent contracts will cover the supply of units equipped solely for AC. The dual-system sets will be redeployed around the network as the conversion work proceeds.
To achieve reliable, safe and punctual operation under often-difficult operating conditions, the supply contract specified that the EMUs should include microprocessor-based VVVF controls, IGBT converters and inverters, three-phase AC traction motors, modular control and fault isolation at bogie level, air-sprung secondary suspension and regenerative braking.
Regenerative braking not only makes the trains more energy-efficient, it also provides longer wheelset life and reduced wear of the composite brake blocks. These efficiency measures are likely to result in a saving of around 1 million units of electricity per trainset per year. The consequent reduction in greenhouse gas emissions enabled MRVC to submit a 'Project Idea Note' to the World Bank, which has included it in its portfolio of projects eligible to earn carbon credits under the Clean Development Mechanism - the first rolling stock renewal programme to achieve this anywhere in the world.
Nine and 12-car rakes
All the trainsets are being supplied in 12-car formations for use on WR and CR Main Line services, where work has been completed to permit 12-car operation. The Harbour Line services will remain at nine cars due to infrastructure constraints.
Each 12-car EMU will have four motor cars, six trailers and two driving trailer vehicles (Fig 1). Two cars will be provided with limited accommodation for disabled passengers, and five will include segregated ladies-only saloons.
Electrically, the four motor cars are identical, with a pantograph and underfloor transformer feeding the traction package located in a secure HT compartment behind a small driving cab provided for shunting part-sets in the depots.
The 1 250 kVA fixed-ratio transformers are being supplied by ABB Sécheron, and have multi-traction windings to match the requirements of the IGBT-based converters. The transformer is designed to conform to IEC310 standards and temperature limits under all operating conditions.
Each motor car has two separate IGBT-based four-quadrant 1 070 kW power converter-inverter sets with PWM control, which has two inverter legs, each feeding the two traction motors on one bogie. This arrangement provides a high level of redundancy in the event of any failure.
Forced air cooling has been adopted, and the IGBT voltage rating has been chosen to allow at least a 25% margin after taking into consideration the DC link voltage and the voltage jump on account of inductance and capacitors in the circuit.
Each axle on the motor car is powered by an axle-hung, nose-suspended traction motor with tapered roller-suspension bearings; continuous rating is 240 kW. The motor is rated to meet the EMU's performance requirements in the most severe operating conditions, as defined by IEC standards, and should be able to cope with the excessive vibration caused by track condition, high temperatures and humidity, as well as Mumbai's salty atmosphere.
Microprocessor control
Siemens is supplying its Sibas 32 S2 microprocessor control system to manage the traction chain, braking, slide and wheelslip protection equipment, as well as command monitoring and other auxiliaries. The link between the microprocessor and the interface cards is provided by a serial bus.
The microprocessor also undertakes fault diagnostics and display functions. Vehicle faults are displayed on an LCD interactive touch screen in the driver's cab to facilitate rapid troubleshooting.
Power for the auxiliaries is fed through a 115 kVA IGBT converter/inverter equipped for both AC and DC supply. When passing through a neutral section, special provision has been made for the normal operation of lights and fans through a feed from the adjacent motor car.
To meet growing user aspirations, a professional agency was hired to obtain feedback from the passengers. This market research influenced the final design of the vehicles: interior colours and signage were chosen with input from the National Institute of Design in Ahmedabad, and forced air ventilation has been chosen to improve passenger comfort.
A GPS-based audio-visual passenger information system is provided in all saloons, together with FRP panelling and cushion/polycarbonate seating with stainless steel frames in both first and second class. In addition, each car offers more luggage storage through the use of stainless steel racks, as well as large louvre windows and stainless steel roof panelling, flooring and doorway partitions.
Fresh air
One of the major problems facing commuters on the existing trains is a lack of fresh air on board caused by the severe crowding on peak-hour services. Various measures have been tried in the past to improve ventilation of older EMUs. However, for the replacement trains, a systematic approach was adopted by following US ANSI/Ashrae standard 62-2001.
CO2 levels were measured using digital portable meters that allow data storage and retrieval, and the data revealed a range of 800 to 2 450 parts per million inside vehicles on the Western Railway during peak hours. MRVC specified that the Siemens/ICF trainsets should provide a maximum differential in CO2 level between inside and outside air of 700 parts per million. Four fans have therefore been provided in each car to pump in fresh air at 15 000 m3/h.
To verify the efficacy of the design, ICF developed a mock-up car to simulate actual service conditions. After commissioning the first dual-system trainset in passenger service, measurements of CO2 levels were repeated at peak hour. These revealed a reduction in CO2 levels to an acceptable range of 700 to 1 450 parts per million.
Five pre-production 12-car sets were delivered for testing during the second half of 2007, and the first of these entered revenue service on November 12. With the pre-production sets now in regular operation, production of the series build has started, with four of the 12-car sets in traffic. ICF is expected to ramp up production to deliver four completed 12-car sets each month from July 2008.
As the fleet enters service, average passenger loadings for a nine-car formation are expected to come down from the present 5 000 to 3 600 by the end of MUTP Phase I. By the time the whole MUTP is completed, the average peak-hour loading is expected to fall further to 3 000, providing some long-awaited relief for Mumbai's commuters.
Fig 1. Each 12-car set is equipped with four motor cars.
CAPTION: IR is expecting to accept four Siemens-ICF EMUs per month from July onwards. They will enter traffic on Western Railway and Central Railway services around Mumbai.
CAPTION: Services formed of older rolling stock suffer from severe overcrowding.