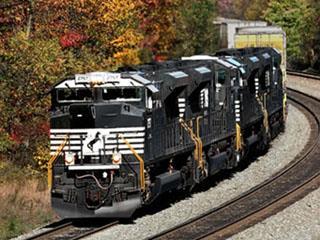 USA: Norfolk Southern has operated the first revenue service freight train in the USA to be fitted with electronically-controlled pneumatic brakes.
Hauled by a trio of new General Electric locomotives, the train of 115 loaded gondola wagons ran on October 11 from coal mines in southwestern Pennsylvania to Keystone power station in Shelocta, Pennsylvania. The wagons, fabricated from aluminium and stainless steel, had been built by FreightCar America and fitted with ECP equipment by New York Air Brake.
Over the next few months NS will equip 30 locos, 210 quick-drop hoppers and 230 aluminium-stainless steel gondolas with ECP brakes for use in trainload coal service.
The Federal Railroad Administration recently authorised NS and BNSF to conduct trials with ECP braking, and the Department of Transportation has proposed allowing ECP-fitted trains to run for up to 3500 miles (5633 km) between routine brake tests, as the equipment performs continuous self-diagnosis.