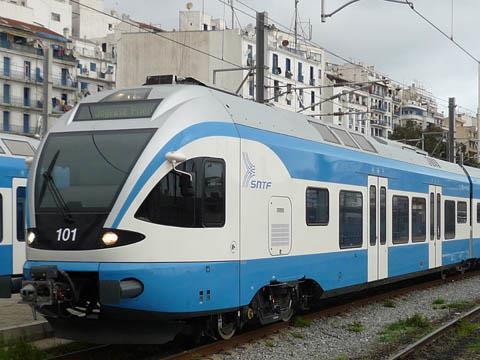 ALGERIA: President Abdelaziz Bouteflika inaugurated electric outer-suburban passenger services from Alger on May 2, following a month of testing. Regular operations began the next day.
From Alger the 25 kV 50 Hz wiring runs 54 km east to Thénia and 68 km west to El Affroun. Electrification of the western route was finished during April, following the November 2008 completion of the eastern line to Thénia.
The work has been undertaken by Alstom, local firm Baticim and the Infrarail subsidiary of national railway STNF under an €89m contract signed in August 2004. The project covered 350 track-km, three substations and associated control and telecommunications systems.
Stadler is supplying 64 four-car Flirt EMUs under a SFr600m contract awarded in 2006. The Swiss firm's Bussnang plant has already supplied 22 of the units, and the rest are due to arrive by the end of 2010. Stadler will be responsible for maintaining the trains for 10 years.