POLAND: The unexpected decision to name Poland as co- host of the UEFA European football championship in 2012 has focused attention on ensuring passenger services are able to meet the anticipated demand. A raft of improvements to inter-regional lines and major stations is now underway, as Ryszard Piech explains.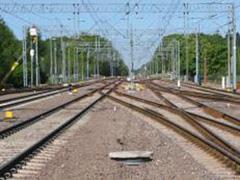 While the Polish government has started public consultation over the planned KDP (Koleje Duzej Predkosci) high speed line with a target for completion in 2019 (p799), a more pressing deadline is looming. Poland, together with Ukraine, is to host the Euro 2012 football championship, featuring 16 competing national teams. The consequent influx of visiting supporters is likely to trigger a major spike in demand for rail services, particularly inter-regional and airport links, so a series of upgrades to track and stations is now at various stages of either planning or execution across the country.
With the high speed line scheduled for completion long after 2012, the current focus is firmly on raising the quality of existing routes. At the moment, PKP operates 160 km/h services on two axes (Warszawa – Poznan – Rzepin and Warszawa – Katowice/Kraków), while some other sections are capable of handling 160 km/h traffic but do not do so at present. Similarly, these corridors are passed for freight trains to run at up to 120 km/h, but most freight operators restrict trains to 80 km/h to reduce costs. ?Infrastructure manager PKP PLK plans to ensure most major cities are connected by main lines capable of carrying passenger trains at 160 km/h or above by 2012.
By the time the first match kicks off, the entire east-west corridor from the German border to Terespol via Poznan and Warszawa will have been rebuilt for 160 km/h operation. Indeed, much of the work between Rzepin and Warszawa has already been completed, and PKP PLK is now focusing on station improvements. Meanwhile, work is underway to remodel the junction at Poznan and raise speeds between the capital and the border with Belarus at Terespol.
Also starting from the German border, a similar project is underway to modernise the route through Zgorzelec, Wroclaw and Kraków to Przemysl, close to the Ukrainian border. Work started in 2000 to upgrade this line for 160 km/h operation throughout, with completion forecast for 2012. The Zgorzelec – Wroclaw – Opole section is most advanced — track work here is complete and attention has again turned to station rebuilding. Work on the line from Opole through Katowice to Przemysl is due to start this year, with the exception of the section from Kraków to Rzeszów, which has been deferred to a 'reserve list' of investment schemes.
The Warszawa – Kielce corridor will also be upgraded to 160 km/h, and a short section between Warszawa Zachodnia and Okecie on the southern outskirts of the city has already been renewed. From there, some work has started on building a branch to Fryderyka Chopin international airport, but the underground station adjacent to its recently-opened Terminal 2 has yet to be fitted out and work on the connecting tunnel is two years behind schedule. Optimistic observers suggest that final approval could be granted this year with a view to completing the link before the start of Euro 2012, providing a through suburban service between the country's main airport and Warszawa's largest stadia. The rest of the line to Kielce, which is unlikely to carry much football-related traffic, would be upgraded by 2013-14.
Cross-city tunnel
The line from Lódz Widzew to Skierniewice on the main line to Warszawa has been rebuilt over the past two years, but revenue services, although formed of Class ED74 EMUs supplied by Pesa and capable of 160 km/h, are still restricted to 130 km/h. Trains operating above this speed require either cab signalling or a second driver under Polish safety regulations, but the ED74 has a central driver's seat, which means there is no room for a second crew member in the cab. In any case PKP PR is concerned by the financial impact of double-manning. The problem will only be eliminated once ERTMS has been introduced, but this is likely to be several years in the future.
The second stage of the Lódz – Warszawa modernisation programme is expected to be undertaken between 2009 and 2012, and will involve the stretch between Warszawa Zachodnia and Skierniewice, and the terminus at Lódz Fabryczna. Of greatest significance is the decision to rebuild Fabryczna station, currently the city's principal terminus, as an underground facility with through platforms. As part of the high speed line project, a cross-city tunnel is to be bored to Kaliska station, providing through-running onto the line to Zgierz to the north, although this is not expected to open until at least 2014.
Under current plans, the line from Lódz Widzew, in the east of the city, to Fabryczna will be expanded from two to four tracks and placed in tunnel. The project includes provision for through high speed services to call at the rebuilt station, which is likely to be renamed Lódz Centralna, reflecting its increased importance. Existing services will also be accelerated, and an intensive local suburban service will be introduced — long overdue for a city of 700 000 inhabitants.
Reaching for 200 km/h
Arguably the most ambitious upgrade of an existing route will occur on the line from Warszawa northwards to Gdansk and Gdynia, which will become Poland's first operational 200 km/h railway. Until recently, PKP PLK had insisted that it would be impossible to raise the speed on conventional lines above 160 km/h, but the infrastructure manager has clearly had a change of heart.
Partly financed by an EIB loan of €400m agreed on June 30 (RG 8.08 p472), the route modernisation started in 2007 and is scheduled for completion in 2013. Significant journey time reductions are anticipated for the summer of 2012, and by the end of the project the fastest Warszawa – Gdansk journey time will be cut from the present 4 h 31 min to between 2 h 10 min and 2 h 30 min.
Other host cities also stand to benefit from significant investment in infrastructure prior to Euro 2012.
A 30 km link is to be built to connect the airport at Katowice Pyrzowice with the city centre, involving an upgrade of the existing line from Katowice to Chorzów Batory. From there, a branch will diverge to follow the alignment of a former freight-only line before joining a new formation alongside a planned motorway to reach the airport.
The route will include an intermediate station to serve Piekary Slaskie. In total, 20 km of double-track, 160 km/h railway will be built, in addition to the renewal of the existing 10 km corridor into Katowice. An end-to-end journey time of 30 min is predicted, including five intermediate stops. At the moment the project remains at the planning stage, with building work ?expected to take place between 2010 and 2012 at the earliest.
A similar project is envisaged to create an intensive suburban corridor linking Gdansk Airport with both Gdansk and Gdynia. This line is included on a list of priority schemes to be completed before the football championship, and at present there is a tender out for a feasibility study to assess the cost and timescale for construction. Essentially the project involves re-doubling some sections and electrifying throughout. Around Gdansk, some short sections will be constructed on an alignment abandoned after being damaged during the Second World War.
Major stations programme
As a part of the preparation for the influx of visitors for the tournament, PKP PLK is also planning to rebuild totally several of its largest stations, including Katowice, Warszawa Wschodnia, Warszawa Zachodnia, Warszawa Stadion and Poznan Glówny, as well as Lódz Fabryczna. These will receive multi-storey office and retail facilities on the site of the present structures, whilst a major overhaul of existing facilities at Warszawa Centralna, Kraków Glówny, Sopot, Gdynia Glówna and Wroclaw Glówny is also envisaged.
Because the refurbishment of Warszawa Centralna will require closure of the adjacent tunnel, most long-distance trains will be diverted to Warszawa Gdanska for two years. Work to adapt Gdanska to accommodate them is expected to be completed by December next year, paving the way for the tunnel to Centralna to re-open in 2012.
Finally, Polish Railways is taking steps to modernise its rolling stock fleet. PKP Intercity will take delivery of 10 Siemens Eurosprinter ES64U4 multi-system electric locomotives for 200 km/h passenger services (RG 8.08 p483), 17 passenger coaches from FPS and 20 EMUs capable of 250 km/h running (RG 9.08 p552).
Meanwhile PKP PR plans to buy 36 regional EMUs with a maximum speed of 160 km/h, and to refurbish 247 EN57 EMUs and 380 passenger cars. However, these plans are subject to change as a number of inter-regional routes are to be transferred to PKP Intercity.
Another PKP subsidiary, PKP SKM w Trójmiescie, which operates suburban services around Gdansk and Gdynia, will modernise 20 of its EN57 EMUs. Meanwhile, Koleje Mazowieckie, which operates regional services in the province of Mazowsze, is planning to acquire 36 EMUs, and is currently taking delivery of the first of 10 Stadler Flirt trainsets and 37 double-deck cars from Bombardier.
Suburban operator SKM Warszawa currently owns only eight EMUs, but it is thought that as many as 72 might be required to meet demand in 2012. A tender for the supply of a further 20 EMUs is expected to be announced shortly.