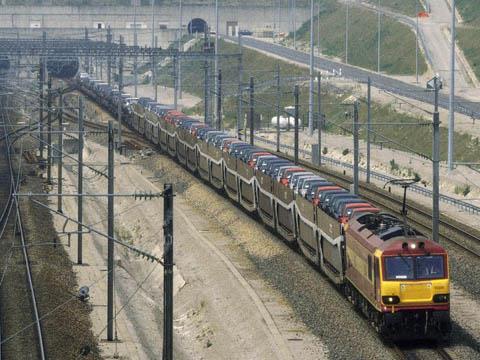 EWS announced on November 22 that its Euro Cargo Rail subsidiary will be launching 12 intermodal services through the Channel Tunnel during 2008, connecting 'the key UK economic regions' with terminals in France, Italy, Spain, Belgium, Germany and Switzerland.
The first is due to start at the end of January and will run directly between Muizen in Belgium and Daventry three times a week in partnership with Ambrogio Intermodal. It will be followed in February by a Duisburg - Manchester (Trafford Park) train six times a week, and in March a Novara - Trafford Park service will start with five round trips a week.
'The trains will be managed and operated by Euro Cargo Rail and all the services will be marketed by ECR', EWS Commercial Director David Kerr explained. 'Transit times and service levels will be improved, and operational complexity will be reduced'.
The former Unilog service from Muizen required an SNCB loco and driver in Belgium, an SNCF loco from the border to Fréthun and an SNCF Class 92 to haul the train through the Channel Tunnel. EWS provided traction in the UK. In contrast, ECR will haul the new service directly from Muizen to Fréthun, where its Class 66 will be replaced by an EWS Class 92 for onward haulage to Daventry. In countries where ECR does not yet have its own locos and drivers, Kerr said it would 'co-operate with traction partners as required', and 'there will some be subcontracting in countries where we are not operating'.
In addition to the 60 new Class 66s currently being delivered to ECR by EMD, Kerr announced that EWS had ordered 20 Traxx electric locos from Bombardier for delivery in 2008. These will be equipped to operate in France, Belgium and Germany.