EUROPE: The takeover of Valdunes by GHH Radsatz International this year has reshaped the competitive global market for wheels and axles, reports Dr Harry Hondius.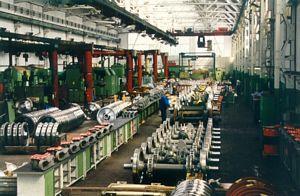 On October 23 GHH Radsatz GmbH will be holding a party in the large gasholder at Neue Mitte in Oberhausen to celebrate the company's 200th anniversary in wheel production.
GHH Radsatz traces its heritage back to 1808, but now the company is looking forward to a successful future following the establishment of GHH-Valdunes in February 2008 as a new force in European wheelset manufacturing. The group was formed when GHH Radsatz International Holding purchased Valdunes International of France. Société Générale Capital Europe now holds 85% of the shares, and the remaining 15% is owned by the management team. With around 900 employees in total, the companies had a combined turnover of €207m in 2007.
The Oberhausen operation has been through some turbulent times since 1994, when 60% was owned by MAN and 40% by Thyssen Guß. In 1996 MAN sold its share to Rem­scheid-based BSI, a Thyssen subsid­iary. Two years later the low-floor axle expertise was transferred to Oberhausen when Thyssen Guß closed the BSI Mülheim plant and sold the gears business to Voith. In 2000 the BSI and SAB rail businesses were acquired by Cardo Rail, which renamed itself SAB-Wabco. In 2004 the company was bought by Faiveley, and GHH Radsatz was spun off again through an MBO in 2005.
Until 1998, the Valdunes group had been controlled by the French steel giant Usinor, but it was then taken over by Freedom Forge, and was acquired by Acland Capital Investment in 2001. This business also has a long heritage: Valdunes Belux was founded in Liège as early as 1834 as part of Cockerill. The Valdunes plant in Valenciennes was established in 1840, and the Dunkerque unit followed in 1912 as part of a local steel works. Forges de Fresnes dates from the 1930s. Paris-based TRIsource acts as the sales outlet for Valdunes products, and now also for GHH Radsatz.
GHH had no forging capacity, and was a major customer of Valdunes, so the merger could lead to some really interesting synergies. Dunkerque-based CMF is the forging centre for the group, whilst brake beams and bogie components are made in Fresnes. At Oberhausen, the primary workload is machining wheels and complete wheelsets for EMUs, DMUs and trams. Liège supplies complete wheelsets for new freight wagons, with an output of around 40 000 wheels/year, and Valenciennes specialises in wheelsets for high speed trains, coaches and metro cars, as well as another 10 000 wheels/year for the freight wagon market.
A competitive market
The GHH-Valdunes merger has created one of the largest wheelset suppliers in Europe, with a 24·3% market share slightly ahead of Czech-based Bonatrans and Lucchini of Italy (Fig 1). Of the other major players, Bochumer Verein Verkehrstechnik (BVV) and Radsatzfabrik Ilsenburg (Rafil) both belong to Georgsmarienhütte Holding GmbH.
Although a dominant player in Europe, GHH-Valdunes produces 135 000 wheels per annum which is relatively small in terms of the world market. Recent research puts the global demand at around 5·4 million wheelsets a year (Table I). The biggest single supplier in the world market is US-based Griffin Wheel Co, which produces around 1 million cast wheels a year. Three Russian firms produce 1·9 million wheels a year, although RZD is responsible for the final machining.
The group's annual wheel production is split fairly evenly between new vehicles and replacement wheelsets. Around 70% of sales are for the passenger sector, 20% for freight vehicles and 4% for special vehicles such as track maintenance machines. The remaining 6% is non-railway equipment. The large European railway operators account for 45% of GHH-Valdunes turnover, including 17% for DB AG and 15% for SNCF. A further 28% of sales come from the loco and rolling stock manufacturers and 11% from private vehicle owners.
GHH-Valdunes sees itself as a dominant player at the top end of wheel and axle technology, along with Sumitomo and Georgsmarienhütte. The group is currently spending around 1·5 % of turnover on R&D and plans to increase this to 3%. The group claims to be the global market leader in high speed wheel technology, and VHD wheels for heavy haul freight vehicles up to 40 tonne axleloads, with a potential life of 1·7 million km. It also specialises in portal axles and wheelsets with resilient wheels for low-floor trams.
According to Marketing Director Michel Durif, GHH-Valdunes has ambitions to grow outside its core European markets, especially in North America and the Asia-Pacific region. Its objectives are two-fold: to match the strategy of its customers such as the major system builders which are all operating globally, and to position its products and expertise in regions where the rail sector has scope for brisk expansion.
Resilient wheel developments
With SAB having started developing the resilient disc wheel before World War II, GHH-Valdunes is the leading supplier of resilient wheels today, ahead of Bochumer Verein and Lucchini.
SAB resilient wheels were used on the latest Swedish trams, the VST Swiss standard cars and successive generations of PCC trams and their articulated derivatives built by BN in Brugge, as well as 112 low-floor trams for De Lijn. In the main line sector, British Rail's Class 86 electric locos and SJ's Rc family also used them. The wheels are expensive but offer very good ride qualities thanks to 4 mm of vertical springing between the wheel tyre and hub. A new disc wheel is under development.
In 1990 GHH and BSI started marketing the V15, V30 and V60 wheels for the light rail sector (Fig 2). The decreasing radial stiffness of the three types (V15: 450 kN/mm, V30: 350 kN/mm, V60: 150 kN/mm) allows a corres-ponding inc­rease in vertical movement. Today the V60 is the leading choice of wheel for low-floor trams, with more than 40 000 having been manu­fac­tured; Bom­bardier is the biggest customer for this design.
The Eschede derail­ment in 1998 almost completely stopped the use of resilient wheels for heavy rail traction, with one exception: the Regio-Shuttle diesel railcar, of which Adtranz and later Stadler have delivered 384 vehicles fitted with V15 wheels.
The V30 wheel is used on GTXN low-floor cars built by Adtranz and is also fitted on modernised Tatra cars. The V60 is the current standard for Bombardier, is fitted to around half of the Siemens Combino fleet, and is also used on Stadler Variobahn and Skoda 14T cars.
Together with Paulstra, Valdunes developed the VUT wheel, with a low radial stiffness and a vertical springing of 3 mm. This is used on the Graz Cityrunner cars, and on Alstom's Citadis 300 and 400 families, where the resilient wheel must act as the primary suspension. Around 7 000 of these wheels have been supplied, mainly for Citadis cars. The main alternatives are a BVV design and another designed by Alstom itself which is manufactured by BVV.
Forged axles
GHH Radsatz specialised in producing forged portal axles for low-floor trams, both powered and non-driven and where possible identical. Bombardier uses them, with a forged axle for a Classic car shown on p823. Similar axles are used by Siemens on half the Combino fleet and the Combino Plus, as well as Alstom's RegioCitadis and Stadler's Variobahn. A portal axle cut from steel plates is used for the Cobra cars in Zürich. All the wheelsets, both powered and unpowered, for the Siemens ULF cars are made at Oberhausen
In the heavy rail sector, GHH has supplied the axles for DB's Class ET422 S-Bahn EMUs.