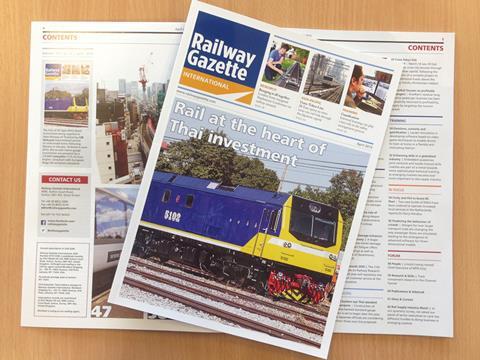 Feature articles in the April 2015 issue of Railway Gazette International, the leading business journal for railway operators and suppliers, read in 140 countries. Subscribe to Railway Gazette International today.
Comment
Time to act on tank car safety
News
Main Line
Urban Rail
Market
Industry
Innovations
Pointers
Analysis
Prabhu unveils Indian Railways action plan
Lyon – Torino final agreement
Supporting economic development in the Philippines
Research
Bringing it all together
This month sees the inaugural Stephenson Conference in London, bringing together different strands of railway research that have become fragmented in the two decades since the privatisation of Britain's railways
Research to elevate the role of rail
Japan's RTRI is seeking deeper insights into a range of phenomena across the spectrum of railway technology
Reducing wheel damage enhances safety and saves money
A bogie designed to minimise wheel damage from rolling contact fatigue offers potential cost savings as well as reducing the risk of derailments, reports John Kirk
Looking towards 2050
The 11th World Congress on Railway Research in Milano next year will reposition the debate to put customer service at the heart of innovation
Asia-Pacific
Rival backers eye Thai standard gauge projects
Construction of a Chinese-backed standard gauge corridor is set to begin later this year, while Japanese officials are considering a further three new line proposals
Cross-Tokyo link completed
March 14 saw JR East launch new cross-city services through the Japanese capital, following the completion of a complex project to build additional tracks above the existing Tohoku Shinkansen viaduct
KiwiRail focuses on profitable passengers
KiwiRail's residual long-distance passenger business has been successfully returned to profitability, largely by targeting the tourism market
Training
Emotions, curiosity and gamification
Lander Simulation is developing software based on video game techniques to enable drivers to train at home in a flexible and motivating fashion
Enhancing skills in a globalised industry
Embedded academies, joint ventures and locally-trained skills coaches are part of a trend towards more sophisticated technical training as emerging markets become ever more important to the supply industry
In focus
Civity and Flirt to boost NS fleet
Two new builds of EMUs have been ordered to operate increased local services in the Netherlands, reports Dr Harry Hondius
Predicting the behaviour of crowds
Designs for ever larger transport hubs are changing the way passenger flows are simulated, leading to the emergence of advanced software for three-dimensional models
Research & skills
Track component research in the Channel Tunnel
Forum
People
Dieter
Sidetrack
Diary
Publications
Rail Supply Industry Watch
In our quarterly survey, we asked our panel of senior executives to rank the different hurdles to doing business in emerging markets
Railway Gazette International is the leading business journal for railway operators and suppliers, read in 140 countries. Subscribe to Railway Gazette International today.