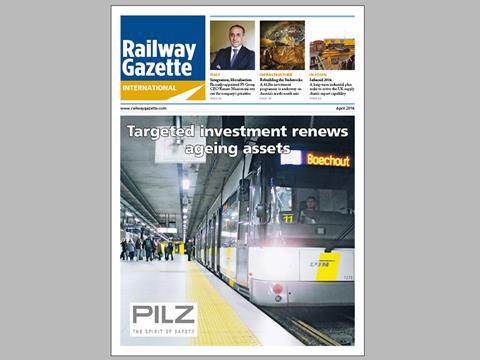 Feature articles in the latest issue of Railway Gazette International, the leading business journal for railway operators and suppliers, read in 140 countries. Subscribe to Railway Gazette International today.
Comment
Digital convergence is coming
News
Main Line
Urban Rail
Market
Industry
Innovations
Pointers
Analysis
Headwinds hamper Indian reforms, DB needs more quality, Gulf Railway still going ahead
Italy
Integration at home, liberalisation abroad
As a political debate continues about the potential partial flotation of FS Group, new Chief Executive Renato Mazzoncini tells Nick Kingsley that his priorities lie in improving multimodal integration in local transport and pursuing international expansion in a liberalised European market.
NTV targets the northern market
Murray Hughes highlights NTV's plans for serving Italy's northern cities with a fleet of non-tilting Pendolino trains
Reshaping the Roman network
Luigi D'Ottavi reports on plans to modernise and expand rail services in and around the Italian capital
ETCS Level 2 to boost network capacity
The use of virtual blocks to reduce headways in urban areas is a key element in RFI's ERTMS deployment strategy, its Head of Train Control & Telecommunications Fabio Senesi explains to Chris Jackson
Infrastructure investment tops the agenda in Torino
We preview the Expo Ferroviaria trade show taking place at Torino's Lingotto exhibition centre on April 5-7
Infrastructure
Rebuilding the Südstrecke
Construction of the Semmering Base Tunnel and the 130 km Koralmbahn, combined with remodelling of major hubs, will transform the busy 470 km trunk route linking Austria's northern and southern borders
Bridging the gap
North America's railroads face a growing challenge to repair or replace major bridges which now date back a century or more, and structural renewals feature heavily in many of the Class I railroads' 2016 capital plans. David Lustig investigates
Sub-Surface ATO on trial
Testing of the Thales SelTrac IS Radio CBTC to be deployed on four London Underground routes is now underway. Chris Jackson reports from Old Dalby
Economical heart surgery
De Lijn has adopted a new software-based control system to update the control of a key junction on the Antwerpen pre-metro network
In focus
You aren't world class if you aren't exporting'
The Rail Supply Group has published a long-term industrial strategy which is intended to grow UK companies' share of the global market, as RSG Industry Co-Chair Terence Watson explains
First-time exhibitors reflect UK growth
We look at the products and innovations that will be on show at Infrarail in London on April 12-14
Research & skills
Bombardier signs urban rail-focused education agreement in Thailand, tech start-ups compete to improve DB station information
Forum
People
Dieter
Sidetrack
Diary
Viewpoint
Rail Supply Industry Watch
As emerging markets account for an increasing proportion of demand in the rail sector, we asked our expert panel what product characteristics are most important for success in such markets
Railway Gazette International is the leading business journal for railway operators and suppliers, read in 140 countries. Subscribe to Railway Gazette International today.