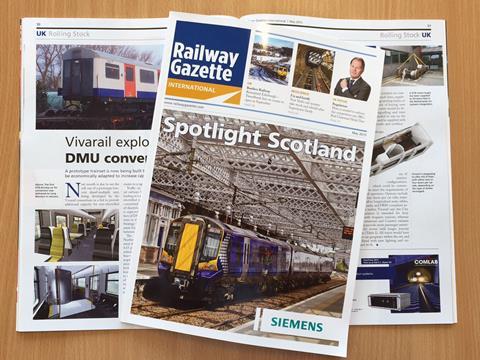 Feature articles in the latest issue of Railway Gazette International magazine, the leading business journal for railway operators and suppliers, read in 140 countries. Subscribe to Railway Gazette International today.
Comment
Making the most of tomorrow's railways
News
Main Line
Urban Rail
Market
Industry
Innovations
Pointers
Analysis
Committee recommends vertical separation in India
Interoperability is essential in the Middle East
Test track trial
Melbourne rethinks suburban upgrading
Trouble in Transylvania
Asia Pacific Rail 2015 conference
UK
A railway for everyone
Specified and managed by the Scottish Government, Scotland's railway is playing a key role in supporting wider social and economic objectives
Repositioning the Caledonian Sleeper
Serco's 15-year franchise to operate Anglo-Scottish overnight trains began on March 31
Building a better network
Work begins next month to lower track in the Winchburgh Tunnel as Network Rail's Edinburgh-Glasgow Improvements Programme gathers pace
Rails return to the Borders
Work is nearing completion on construction of the 48 km Borders Railway, which will restore regular trains to an under-served region of southern Scotland
Educating the world of rail
The city of Birmingham is working to become a world centre for railway education, research and innovation
Class 700 is on track
On test in Germany for more than a year, the first of 115 new EMUs to operate London's expanded Thameslink network is due to arrive in the UK in August
Keeping Pendolinos in trim
Thanks to advances in conditioning monitoring techniques, Alstom's Traincare Centre in Manchester is planning to extend maintenance intervals for Virgin Trains' Pendolino fleet
Vivarail explores low-cost DMU conversion
Former London Underground D78 trains could be economically adapted to increase capacity on non-electrified routes
Regional growth underpins YRP expansion
Ambassadorial and networking body Young Rail Professionals is growing rapidly
Birmingham show attracts international attention
The Railtex exhibition takes place on May 12-14
Infrastructure resilience
Coping with extremes
Network Rail is working to improve its understanding of infrastructure vulnerability, forecasting techniques and mitigation measures to minimise the impact of future extreme weather
Sandy leaves a long-term legacy
A multi-billion dollar rebuilding effort has successfully strengthened the rail networks of New York and New Jersey almost three years after they were ravaged by Superstorm Sandy
In focus
'A strong regulator is not enough'
More work needs to be done to define and enforce competition in the European rail market, says IRG-Rail Chairman Henk Don
Delivering 'a breath of fresh air'
Bozankaya is emerging as a supplier of trams and metro cars to its own designs
Research & skills
UK asset life cost research funded
Konkan Railway Corp to establish tunnel academy
Indian Railways to set up design centre
Polish training approval
Forum
People
Dieter
Sidetrack
Diary
Viewpoint
Railway businesses must embrace changing attitudes to learning and development, says Lyndon Wingrove.
Railway Gazette International is the leading business journal for railway operators and suppliers, read in 140 countries. Subscribe to Railway Gazette International today.