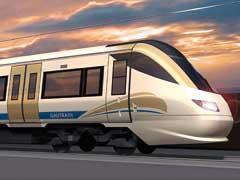 UCW: Assembly began last month of the first Gautrain vehicle to be produced at Union Carriage & Wagon's plant at Nigel in South Africa.
'Flat pack' kits of parts for 81 of the 96 coaches on order for Gautrain are being shipped from Bombardier's Derby plant in the UK, taking 46 days to reach Durban.
The wooden crates contain roofs, underframes and a pair of intermediate car ends, which are assembled by South African staff trained in Derby under skills transfer agreements.