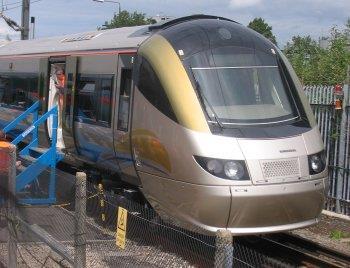 SOUTH AFRICA: Premier of Gauteng province Mbhazima Shilowa visited Bombardier's Derby factory in the UK on July 8 to witness the unveiling of the first electric multiple-unit for the Gautrain commuter line.
Dramatic sounds, lighting effects and dancing heralded the roll-out of the completed trainset. Jerome Govender, Chief Executive of Gautrain concessionaire Bombela, said the event marked the transition from the development stage of the Gautrain project to the start of preparations for the launch of services.
Gautrain CEO Jack van der Merwe stressed that the Johannesburg - Tshwane line 'would not be a test bed for untested technology'. Apart from the styling of the nose, the 160 km/h train is essentially the same as the Electrostar family of EMUs used in southeast England, though the Gautrain units have an upgraded traction package to cope with steeper gradients, heavier potential loads and hotter climatic conditions.
Bombardier Transportation President André Navarri said the 'well-proven' Electrostar platform has been 'transformed for South Africa into a sleek product that will be the envy of the region'. Viewing the first completed train, van der Merwe joked that the launch was 'a sad day for Derby'; he didn't know when the factory would 'see a train as beautiful as this again!'
Most of the trains will have 321 seats in a 2+3 layout, however five sets will each have two cars with 2+2 seating for use by airport passengers. The adoption of a design produced for tight UK clearances leaves a narrow aisle, but legroom between the Compin seats is generous. A passenger information system is fitted, along with air-conditioning and two CCTV cameras per car. There are no toilets.
Technology transfer was an integral part of the train order. For many years South Africa has relied on refurbishing existing trains rather than acquiring new build, and the opportunity is being taken to develop local skills. 'This is the first time in many years we have imported rail technology', said van der Merwe.
The first 15 cars are being built in Derby, and will be shipped completed via Grimsby, Antwerpen and Durban. The remaining 81 vehicles will be supplied as kits of parts, packed into large wooden crates for assembly at Union Carriage & Wagon's plant in Nigel in a process likened to the assembly of flat-packed furniture. The use of aluminium body components and hook bolts is particularly suited to this method of assembly, according to Bombardier, and a number of South African personnel have been training at Derby to develop their skills ready for the start of local assembly work next month. Car ends will be supplied complete.
Gautrain is an important element in plans for the development of Gauteng, which Shilowa said is 'fast developing into a global city region', with 'dynamic new urban development' designed to be linked to public transport. He estimates that Gautrain will directly create 6 900 local jobs, and indirectly create 37 000.
Shilowa said that the journey which had brought the Gautrain project this far 'was not always an easy one, but it is one I would do again'. Other speakers alluded to past difficulties, but President of RATP Développement Jean-Marc Janaillac said they were now looking beyond this, and 'real co-operation is taking place'. The subsidiary of the Paris transport operator will be responsible for Gautrain operations, and according to Janaillac RATP is 'determined not to compromise our operating standards'. He also announced that Bombela will shortly begin the procurement of 125 buses for rail feeder services.
The first phase of Gautrain is scheduled to open for the 2010 football World Cup. Shilowa declared that the first train 'will arrive on time, load the passengers on time, and leave on time.'